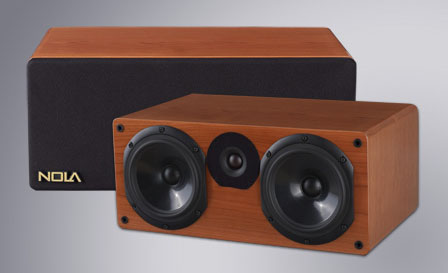 The Nola Announcer 2 is a high performance center channel loudspeaker that perfectly matches the Nola Contender 2 and the Boxer 2 for multi-channel and home theater applications.

The Announcer 2 employs two low mass 6½ inch bass / midrange drivers and one high resolution silk dome tweeter. The bass / midrange drivers are mounted in a sealed cabinet for ease of installation and excellent dialogue intelligibility in real-world applications.

The two 6½ inch woofers have been upgraded from the original and provide increased mid band transparency and deeper bass response.

The high 93 dB sensitivity and smooth impedance characteristics allow ease of interfacing with real world systems and rooms.




Specifications

Dimensions: 8" H x 19" W x 12" D
Response: 50 Hz to 28 kHz
Sensitivity: 93 dB
Impedance: 8 ohms
Drivers: Twin 6½ inch bass midrange high speed and one 1 inch silk dome tweeter
Crossover: Hand wired with high purity polypropylene capacitors
Finish: Gloss American Cherry or Gloss Black


Specifications subject to change without notice.