STEREOMOJO SPECIAL REPORT
ROCKY MOUNTAIN AUDIO FEST 2008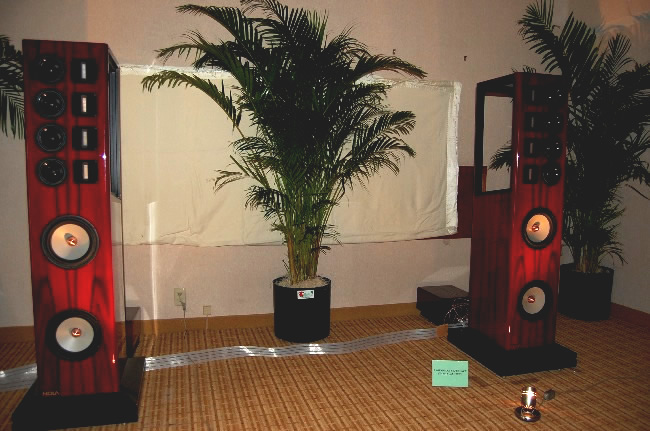 For a natural, "live performance" sound, there is nothing like a full-range open baffle design. For open baffle design, there is nobody like Carl Marchisotto of Nola Audio. Stunning. After the show, our Clark Hertz said that nothing he heard at the made him want to sell his reference speakers. Clark owns Nola Viper References.

Clark is also a practical Canadian whom we're sure would, if he could, love to trade up to these Baby Grand's which are the next-to-the-top Nola model at $55,000/pr . Driven by Audio Research electronics and Nordost Odin wire (which costs more than the speakers), the sound was open and relaxed with an uncanny ability to turn a tiny hotel room into a grand concert hall. The top of the cabinets are open-backed as you can see with ribbons and mids in a line array. The bottom cabinets are filled with twin drivers with exotic (and expensive) ALNICO magnets that propels them down to the 20's in Hz land.Thes big towers just plain disappeared in the undersized room. How do they do that?!

We heard a lifetime of speakers in Denver - many MUCH more expensive, but none conveyed the full sense of real music in a real space as these.

Oh and by the way, they are also drop dead gorgeous in their glowing, piano-lacquered rosewood glory. Most companies charge you extra for finishes this fine. Not Nola. Available in piano black, too.

We are thrilled to have the world's first review of these magnificent beasts coming very soon.