CES & THE Show 2009 Report
Part 5 By Rick Becker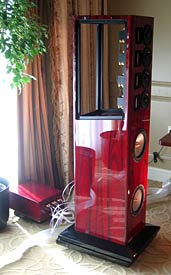 The Nola Baby Grand loudspeaker was the next model down from the top of the line, costing $55,000 with the separate crossover seen on the floor behind it. The clarity of the gloss finish on the woodwork was stunning. Hopefully the wood species is not endangered. The base of the loudspeaker incorporates ball bearing isolation technology. The dipole midrange drivers and ribbon tweeters (same drivers as used in their top of the line Grand Reference) are mounted in an open baffle, while the 9-inch magnesium woofers are mounted in the enclosed lower portion of the towers. It was powered by Audio Research gear and sounded very, very good. A scaled down Nola Micro Grand stand mounted version is available for those with smaller rooms.