Sonic Satori - the Nola Boxer Gets Out of the Box
by Michael Mercer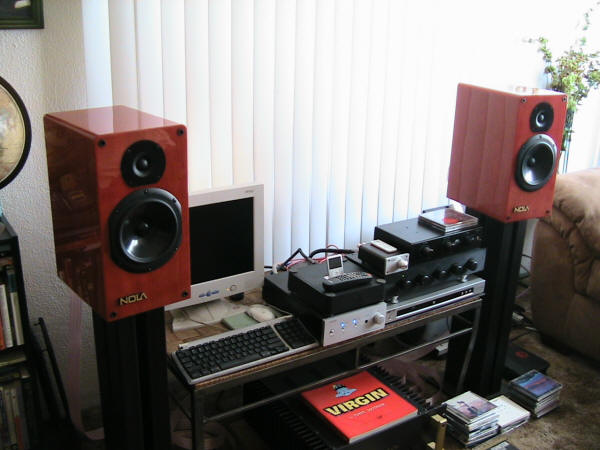 Carl Marchisotto has been designing loudspeakers for about as long as I have existed. He worked for Jon Dahlquist in the seventies, where he was Director of Engineering, and produced all the DQ models past the DQ-10, the DQ-20 and 20i (actually). In 1991 he struck out on his own and created Alon; where his designs were critically acclaimed. You might be hard-pressed to find an owner willing to part with their pair of Alon IV's for example; a speaker that, despite its age (now approaching 20 years) still has Marchisotto fielding calls from proud owners looking for re-cones or upgrades. That's the mark of a classic loudspeaker: Buyers holding onto their pairs for a decade or two. That's how long a decent speaker should last, as far as I'm concerned. On my first job selling audio gear when I went to work for Soundscape in Santa Rosa, California (in 2004), the first thing I sold was a pair of Alon IV's! I found them in the back corner of the store, along with a bunch of other used equipment. I was familiar with their sound, used the IVs to set up a used system; hoping to impress Marc Silver (the boss). I knew I could make the Alons sing. Two days later I sold that entire system, which also included an older McCormack line stage and stereo amp, and the EAD transport and its DAC. That experience helped kill my fear of sales. And I've paid close attention to Marchisotto's designs, and their evolution ever since.
Carl was also one of the first speaker manufacturers that took the time to teach me about proper speaker placement when I started doing set-up for Harry Pearson. Being nineteen years old I felt I was so young that designers wouldn't take me seriously, but Marchisotto saw past my young years, understanding that I was thirsty for knowledge. Does this history bias my view of his products? Perhaps, but I have not got into everything he has done. For one thing, our tastes, especially in music, differ greatly at times. This didn't matter when I first heard his new Boxer two-ways at RMAF this year. The sound was so warm and engaging I spent more time listening there than anywhere else. I may have even bothered the folks running the room a bit, as I fed the system disc after disc, trying to appraise their potential. Finally, I told Carl I needed to hear them at home, and he actually sent me the very pair from the show.
The result? I've been having so much fun listening since they got here, that I did not want to sit down and write about their performance! I'd rather toss in some new tunes and relax. This is the job however, and so here is my attempt to shed some light on why I like the Boxers:
The Nola Boxer is a two-way speaker, and those familiar with my past Sonic Satori articles know about my real bias, and that is for two-way speaker systems. True, they cannot produce earth-shattering bass of many floorstanders, but I find them to be more fluid and coherent in their musical response. Meaning: There is less in the way of the music (less drivers, crossover componentry, filters, etc.) and therefore when a two-way design is at its best, I get more enmeshed in the music and less concerned with the "Hi-fi" aspects of the sound. The Boxers, like the Reference 3A Dulcets (my current reference) not only get out of the way, but they also create an image and a sound that is exciting not fatiguing. This is no easy accomplishment for a loudspeaker, at least not to this reviewer's ear. Too often I find a speaker either too forward (which kills the ear after extended listening) or too withdrawn (you know the type; those tweaky audiophile speakers that sound great when listening to Stan Getz, but fall apart at the first AC/DC snare hit). The Boxers have done exceedingly well across the board, and we've thrown everything their way.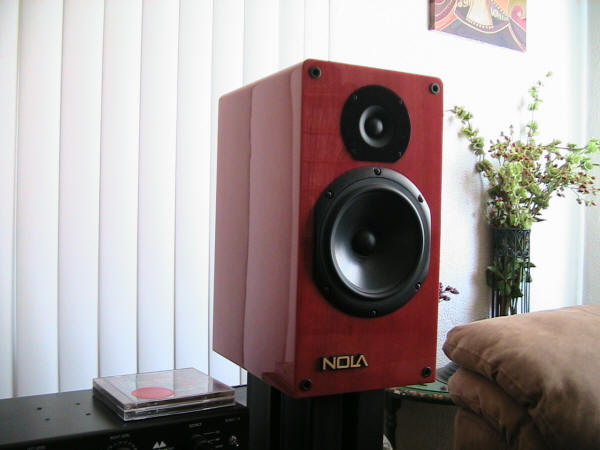 The speakers incorporate a 6½" bass/midrange driver (including a laminated pulp cone—which, as stated on the Nola website, cuts down on coloration) and a silk dome tweeter. The main driver is loaded via a rear firing twin-flared port (aiding in less distortion and noise—according to Marchisoto). There is also diffraction ring surrounding the tweeter (looks and feels like black felt), something familiar if you've seen other Nola speakers (like on the Viper series for example). The speaker terminals are high quality (how many cheap, plastic terminals have you seen, that strip under your fingers) which are hefty and solid. This aids in making a firm cable connection, and they are fixed directly to the cabinet—another low-noise consideration. The cabinet dimensions are: 15.5 inches H x 8 inches W x 11.5 inches D. Our pair came in cherry, which actually looks a little like rosewood (there is a deep red tint to them, which is enhanced with natural lighting—they look different in the afternoon sunshine for example; beautiful) and the fit and finish is superbly executed. The cabinets are silky smooth (the varnish gives them a gliding feel) and the top corners are nicely rounded. These cabinets are actually the best I have seen from Nola yet, and I was psyched to let them know that. If you would like the lowdown on their website and click on "products" then "monitor." Now it's time to get down to the important stuff; the music.
We've been listening to a lot of live music lately in this house, as we just received a copy of Jason Mraz's Beautiful Mess - Live on Earth CD/DVD (recently released on Atlantic Records, which includes some terrific live footage and a bonus documentary—full review to come) and Alexandra (wifey) bought me a copy of Jack Johnson's En Concert for my birthday (another terrific live CD/DVD combo). The Boxers seem to love live music almost as much as we do. They create a broad soundstage that expands far beyond the speakers themselves. The horn section during Mraz's performance of "Anything You Want" (off Beautiful Mess - Live on Earth) sounded as if they were coming out of the window! When I closed my eyes I swore the room was twice as wide as it actually is. I love it when this happens! The image sounds and feels (perhaps more importantly) truly holographic; like a three-dimensional space occurring not only in front and to the left and right, but all around you. You become as engaged as you would be watching a film, and this helps to translate the emotional energy of the music. I could pick out where Mraz and Jack Johnson were during their performances as well as their band mates. It was like having a concert in our living room. That is what a dynamic loudspeaker should do; create an almost textural presentation of the artist's performance. The Boxers did so in spades.
None of this excitement attributed to soundstage could be possible without tonal accuracy. Now, what I may perceive to be accurate may not be what you think, and vice versa, but what I am referring to here is; does the music sound like music, or like Hi-Fi, based on my experiences? Does a Fender guitar sound like something I have heard live, or does it sound like a shrunken facsimile of that guitar? Does the singers voice sound like a human being, with breath and chest, or, like a woofer creating that vocal sound? Realistically we will never be able to re-create all of this at home, but some systems are capable of distracting us from the fact that we are listening to a stereo, and enable us to get lost in the music. With the Boxers installed in my system my wife and I found ourselves dancing at times and laughing, talking about the music rather than the speakers or the amplifier (or the cables, etc.). Jason Mraz sounded like Jason Mraz. We have seen him many times, so there is real experience for which to reference that sound, and the nuances of his voice were acutely reproduced. While acoustic pop/folky style music may not possess the complex harmonic structure of classical music there is a magic that occurs between the performers and audience, a sort of give and take that can only be described when you've experienced it. There's a feeling in the air that is very difficult to quantify, and that is even more difficult for a stereo system to re-create. It's that feeling the Boxers inspired. The only other two-ways I have heard in the past few years that are capable of translating the soul of the music in this way are the Reference 3A's.
I'm also a big fan of ambient music, and I've thrown a ton of this stuff at the Boxers. They shone with Radiohead, Spiritualized, Aphex Twin, and I even busted out HP's original TAS/Hearts of Space sampler. Hearts of Space was a killer ambient label featuring artists like Michael Stearns—who provided the soundtrack to the film Baraka, a visual and auditory trip that you must take if you haven't already seen it). HP handpicked each track for the sampler, and if you're looking for a true symphonic test of floor shaking bass response and transient speed try to get a copy (say, on Amazon). Nola states the Boxer goes down to 44Hz and after listening to Radiohead's "Packed like Sardines in a Crushed Tin Box" off Amnesiac I believe that is a safe statistic (they may even get a cycle or two lower). The track begins with a pad that sounds like a tin drum, followed by an electro-stabbing kick. The force of the kick should give any speaker a work-out. The Boxers sounded effortless. The bass line of this song is a warbled, freaky, hovering synth-like bass note (or notes rather) that travel like ripples on a pond. I've heard other bookshelf-style speakers crumble under the weight of this sound, but the Nolas nailed it without so much as a hick-up.
But, it's the intro to the eighth track, "Soma" on the sampler, by Steve Roach and Robert Rich that is an acid test of your system's ability to resolve quite low-level information. There are these faint, quiet ambient noises (described as scraped rocks and other paraphernalia in the HPs liner notes) and if your system can not render subtle details you will miss the entire opening. I have heard this happen. When a system has low resolving capabilities it masks all the quiet sounds in the beginning. With the Boxers I heard every minute detail, with the soundstage extending far behind the speakers (another attribute of this album; the sheer width and depth of the recording). This feeling of vastness, of real space, was especially spine-tingling in the early-morning hours, when I literally scared my friend Russell out of his seat. I enjoyed the experience so much I sat down and listened to the entire record from beginning to end (something I haven't done in years) and was entertained the whole time.
As I listen to more and more hi-fi equipment I find myself seeking new ways to describe the sounds I hear and the feelings these sounds inspire. It can be difficult; choosing the right words to express the emotions you feel in response to a piece of music emanating from your stereo system. Listening to the Nola Boxers I found myself detesting my job of critiquing the sound. I just wanted to listen, to experience my album collection, and enjoy the company of my wife and my friends surrounded by great music. Again; this is the greatest compliment I can give these speakers—that instead of sitting behind the desk and writing about what I was experiencing I wanted to get back into the chair and actually listen! I don't care what type of music you prefer, whether it be Brahms or the Beatles; I think the Nola Boxers will give you what you want. You will need a subwoofer for the deeper regions of the lower octaves, but as far as the midrange; the place where most music lives—this speaker is simply magical. I hope dealers will take the time to give the Boxers its due. If they don't they'll be robbing the masses of a marvelous audible time machine. Play 'em loud! That's what I'm about to do.
Nola Boxer
Retail $1499 a pair
Nola
web address: http://www.nolaspeakers.com