---


July / August 2012 · Issue 224

---
Nola Metro Grand Reference Loudspeaker
Future Classic
Jim Hannon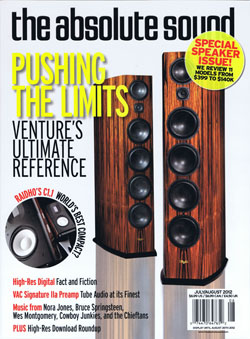 Like fine wine, the work of many of the best designers in the audio arts appears to improve as they age and are able to bring to bear their wealth of experience, aided by years of experimentation, testing, and critical feedback. Indeed, Nola's Carl Marchisotto cut his teeth helping to develop the classic open-baffle Dahlquist DQ-10 with Jon Dahlquist in the early days of high-end audio (reviewed by HP in Issue 4). Throughout the years, I have been very impressed by the sonic naturalness, expansive soundstaging, and engaging musicality of Mr. Marchisotto's loudspeakers. He seems to be able to get them to perform admirably even under the most adverse room conditions (more on that later), and they have been among my favorites at shows. Carl's designs have continued to garner accolades throughout the decades in these pages, most recently with his new Reference Series loudspeakers. JV raved about his Baby Grand References (in Issue 205), commending them on their octave-to-octave coherence, ability to disappear, phenomenal soundstaging, exceptional resolution, realistic dynamic range, lifelike timbre, and sheer listenability "even at the loudest levels." Additionally, the compact stand-mounted Micro Grand Reference "electrified" HP (Issue 210) with its soundstage, sonic purity, and "ability to unravel dense and complex orchestral textures."

So here comes the Metro Grand Reference, the Nola model between these two fine loudspeakers in its Reference Series. Given its lineage, one might easily assume the Metro Grand would also be a top performer, but the high end is littered with inexplicable "duds" in otherwise preeminent product lines. Indeed, the design challenges for Marchisotto in the development of the Metro Grand were formidable. He wanted to offer a large measure of the grandeur, scale, and impact of his Baby Grand in a much smaller package, while also preserving the magic of the smaller Micro Grand but in a full-range floorstanding loudspeaker.

To achieve these somewhat conflicting design objectives, Marchisotto used the same quality drive components and crossover topology in the Metro Grand as in the Baby and the Micro Grands, including the marvelous custom 4" Raven "true ribbon" tweeter and the same proprietary 4.5" dipole midrange drive unit with a large Alnico magnet. Both tweeter and midrange units are mounted on an open baffle, but the Baby Grand incorporates four Raven tweeters and four Alnico midrange units per side, whereas the Metro and Micro use one of each. Both the Baby and Metro Grand utilize an effective double-platform ball-bearing isolation base to further reduce coloration, as well as separate enclosures within the cabinet for each of their two magnesium-cone woofers-6.5" units in the Metro and 9" woofers in the Baby Grand. Because of its smaller enclosure and Marchisotto's desire to maintain reasonable sensitivity, the Metro is separately ported and each chamber has non-parallel partitions with different volumes and tuning frequencies. This approach helps to minimi.ze standing waves and other cabinet resonances, yielding smooth in-room bass response to a reported 26Hz. I was shocked at the deep, powerful, and satisfying bass emanating from such relatively small woofers, including all but the deepest pedal tones of the pipe organ on James Welch's Music for Christmas [Wilson Audio].

To help preserve the magic of the stand-mounted Micro, the Metro Grand has the same width and only 1.5" more depth than its more diminutive sibling. The relatively small footprint of the Metro (approximately one square foot) helps keep its physical presence from interfering with the radiated sound and enables this speaker to "magically" disappear like the Micro. The Metro Grand excels on small-scale works like the Beethoven Quartet No.9 [Columbia], conveying the intensity of the instruments so well that you can almost see the rosin fly off the bows!

Since its custom tweeter and midrange units are mounted on an open baffle, cabinet resonances do not interfere with the Metro's sonic purity in those ranges. Indeed, the highs are of reference quality, reproducing the overtones of instruments and voices with stunning realism, delicacy, and fine detail. Moreover, its top-shelf top-end mates seamlessly with a wonderfully open, quick, and seductive midrange that helps the Metro Grand reproduce sound effortlessly. This seamless driver integration is quite an amazing design feat since the custom ribbon tweeter and cone midrange have different radiation patterns, yet I cannot hear any discontinuity between them. In my experience, no other multi-driver speaker combining either a ribbon or planar tweeter with a cone midrange does this better. Paul Motian's brushed cymbals on the Bill Evans Trio's Portrait in Jazz [Riverside], Hilary Hahn's violin on Vaughan Williams' The Lark Ascending [Deutsche Grammophon], and the singing tone of Jeffrey Biegel's piano on Bach on a Steinway [Steinway & Sons/ArkivMusic] are eerily like the real thing and help one become mesmerized by the music.

The Metro Grand's dynamic headroom is startling for a speaker of this size, and it does not sound congested when the action gets complex on big-band jazz recordings like Still Harry After All These Years [Sheffield Lab]. Macrodynamic swings are reproduced without a hint of hardness on good source material, like those outstanding tapes from The Tape Project played back on a great open-reel deck, such as the UHA-Phase Six gem from United Home Audio. Admittedly, the larger Baby Grand has more impact, owing to its ability to move more air, but the Metro comes closer than you might think. Additionally, on recordings like Exotic Dances from the Opera [Tape Project 007] massed strings are absolutely gorgeous with full-bodied yet detailed richness and an incredible sense of spaciousness among the performers. Few speakers can replicate the sound of mass strings as well as the Metro Grand -- the sound floats on a cushion of air just like it does in a good symphony hall.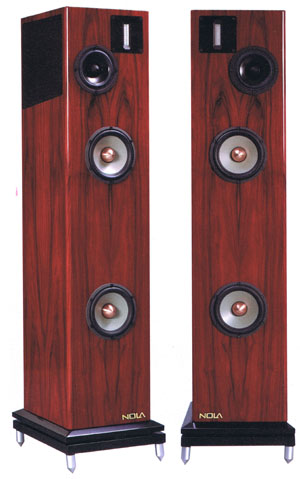 One of the Metro Grand's most compelling sonic attributes is its uncanny ability to transport you to the recording venue, as well as deeply into the performance. These speakers make you feel "as one" with the performer, as if you've climbed into the artist's skin. Some loudspeakers really impress for the first few minutes, but after an hour you're ready to throw in the towel. Not the Metros! I can listen to them all day, which is also a reason I love my Quads.
One of Carl's key design objectives was for the Metro Grand to work well in small-to-medium-sized rooms, and it does that with aplomb. Moreover, the Metro performs amazingly well in other challenging listening environments that would undo many' other fine loudspeakers. I heard the Metro Grand sound marvelous without any fancy room treatment at the 2011 Munich High End Show in an impossible room that reminded me of an airplane hanger! In my own 22' x 16' room, they produced wonderful results using the Rule of Thirds to position the loudspeakers.
While the Metros excel in most areas, they are merely "very good" in a few others. The midbass is rich, full, and highly musical, yet it falls short of the reference-quality neutrality, clarity, and lack of time smear of the far more expensive Magico Q5, as well as the new Sonus faber Amati Futura. In comparison, the piano's lower registers on the Metro can sound slightly thick at times. While its enclosure may not be completely inert, the bass of the Metro Grand still sounds very natural and engaging and some may prefer the added richness in this region. Indeed, the plucked strings of the bass fiddle on Yeah! Charlie Rouse [Epic] have terrific transient quickness and sound like the real deal.
Despite exemplary integration between its ribbon tweeter and cone midrange, the Metro Grand falls slightly short of the "whole cloth" coherency of a full-range electrostatic or single driver system. One of my audio buddies describes the Metro Grand as "a bit midrangey," a common complaint about one of my references, the original Quad. Oddly enough, I consider this a compliment since the midrange is where most of the music lives. However, listening to the Shostakovitch Symphony No.5, I was impressed by the Metro's overall superiority over the Quad in full-range extension at the frequency extremes and more. While you can get a lot of what the Metro Grand does so very well in the less expensive Quad ESL-2905s, the Nola has considerably more dynamic range and bass power and extension. Moreover, the Metro's airy, ethereal highs are to die for. The Quad wins in terms of microdynamics and the ability to sound full at lower levels, one of its major strengths. Indeed, I found the Nolas needed a bit of juice to perk them up. Though they can sound marvelous with as little as 40 watts of triode power from the PrimaLuna Dialogue Seven monoblocks, feed them something like the VTL ME-18S Series II Signature and they can be even more dynamic, thrilling, and controlled on all types of power music.
The Metro Grand not only makes ravishing sound, but in its striking rosewood cabinet, it is also lovely to behold. I find it more attractive than some of Nola's previous open-baffle speakers, such as the Viper Reference that Tom Martin reviewed in TAS. My wife loved the small footprint and surprisingly big sound of the Metro Grand, and I suspect it will find its way into far more living rooms, and certainly apartments, than many larger and more expensive speakers.
Just as I was about to submit this review, after some unavoidable delays on my part, I learned from HP that he had just been loaned the Metro Grand Reference Series II. Carl confirms that the new version of the Metro Grand in current production has modifications in the crossover and in the Nordost wiring that reportedly improve the speaker's overall tonal balance and coherence, most notably in the midbass. If these enhancements are anything like what I heard on the Baby Grand Series II versus its previous incarnation, they should significantly improve the speaker's midbass balance and clarity, removing the slight added warmth in that area and helping to make the Metro Grand sound more of one cloth. I'm looking forward to auditioning them!
With the Nola Metro Grand Reference, master loudspeaker designer Carl Marchisotto has successfully created a loudspeaker with much of the performance of his impressive Baby Grand Reference loudspeaker in a smaller package that should be at home in smaller listening environments. The Metro Grand offers a tremendous sense of spaciousness, air, and naturalness, and has an uncanny ability to transport you to the concert hall. This fine loudspeaker, which could be called a baby "Baby Grand Reference," produces beautifully lifelike, dynamic sound, and does a wide range of music very well -- from small-scale works to large ones in all musical genres. It should definitely be on your short-list. Like the Dahlquist DQ-10, Nola's Metro Grand Reference may one day become a classic.
SPECS & PRICING
Frequency Range: 26Hz to 45kHz
Sensitivity: 87dB
Impedance: 8 ohm nominal, 4 ohm minimum
Drivers: Two 6½" magnesium woofers, one open-baffle Alnico midrange, one open-baffle true ribbon tweeter
Finish: True Piano Rosewood with True Piano Black bases is standard
Dimensions: 9½" x 45" x 13½"
Weight: 85 lbs.
Prices: $25,000 (Series II version, $27,000)

ACCENT SPEAKER TECHNOLOGY
1511 Lincoln Avenue
Holbrook, NY 11741
(631) 738-2540
nolaspeakers.com