---
Consumer Electronics Show 2012
---

Alan Taffel's Best of Show
Best Sound (cost no object)
The Nola Baby Grand Reference Series II driven by tubed ARC electronics. One of the very few systems at CES that made me want to while away the day just listening to music.

Chris Martens' Best of Show
Best Sound (cost no object)
A tie between the Nola Baby Grand Reference Series II speakers driven by ARC equipment [...] The former sounded supremely evocative.

Jonathan Valin

Anything but spitty, the ribbon/cone Nola Reference Baby Grand II, driven by ARC electronics (including the new Reference 5SE linestage), showed extremely well. The Carmen Suite was delightful with particularly marvelous treble. (Unless the Perfect8 Points unseat them, the Nolas still boast the best blend of ribbons and cones I've heard.) Superb on "Keys to the Highway," the Baby Grand IIs lost a little reach in the low end and a little bass-range transient speed on my Blue Tofu cut. Still, this is a great speaker.



---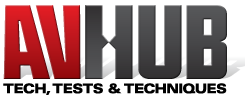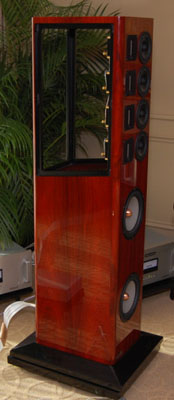 Nola Baby Grand Ref Series II
By Greg Borrowman | Wednesday, 18 January 2012 18:06
On show in the Nola room at the Las Vegas CES 2012 was the company's new Baby Grand Reference Series II, which it says uses the same technology as its $278,000 Grand Reference VI flagship. The Baby Grand design uses a pair of 230mm magnesium bass drivers, which cross to four 115mm midrange drivers powered by Alnico magnets. These are crossed at 3.5kHz to four custom Raven 100mm neodymium-powered ribbon drivers. The midrange and tweeter arrays are what taciturn designer Carl Marchisotto calls 'short line source arrays' though he was surprisingly uninterested in answering questions from anyone who entered the Nola room. The h.f. section of the Baby Grand is an 'open baffle' design. According to the company's PR hand-out, an open baffle design means that 'enclosure coloration in the critical mid- and high-frequency range is non-existent... the result is an effortless "live" sound.' Nola quotes only a frequency range for the BGRS-II (of 20Hz to 46kHz) and puts sensitivity at 89dBSPL (no measurement criteria stated). Impedance is claimed as being 'nominally 8-ohms' with a minimum reported impedance of 4-ohms (frequency not stated).
For more information, contact Nola's Australian distributor, Kedcorp
---

CES & THE Show 2012 · A Buffet of Music
by Paul Bolin | February 6, 2012
When it comes to describing Nola's rooms, I can practically repeat word for word my findings from one show to the next. "Consistency" and "excellence" recur each and every time. Carl Marchisotto showed a prototype of the revised Baby Grand Reference speaker ($59,000/pair), and at CES the production version made superb sound, as was the Nola norm. The new Baby Grand is wired internally with Nordost Valhalla and the crossover is now incorporated in the cabinet, allowing the speaker to be connected with a single pair of speaker cables. Audio Research's Reference CD8 player, Reference 5 SE line stage and Reference 250 amplifiers, Nordost Odin cabling and Quantum power conditioning comprised the rest of this outstanding system.
Best Sound
Sometimes there are exhibits that simply stand above and apart from all others at a show [...] In all honesty I cannot single out just one room as the standout of show week. My most compelling moments were [...] the consistent excellence of Nola's presentation. None of this meant to slight any of the other outstanding exhibits I heard.
---


Positive Feedback: CES 2012 Show Report
by Myles B. Astor
NOLA Speakers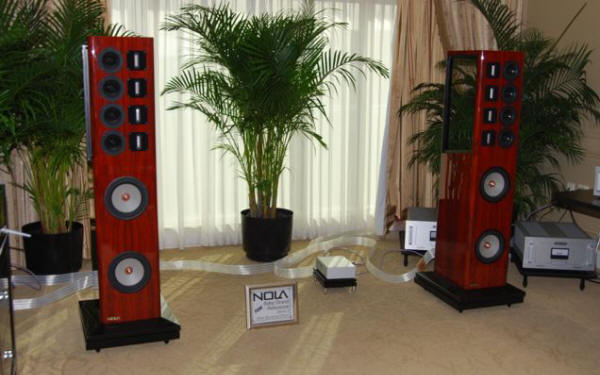 Another speaker that caught my eye (and ear) at CES were Carl Marchisotto's newly redesigned $59,000 Baby Grand Ref. II speakers. As usual, Carl's system consisted of Audio Research electronics including this year Audio Research's new Reference 250 amplifiers as well Nordost cabling. This iteration of the Baby Grands incorporates NOLA's new Unison crossover network. Carl feels this new crossover design markedly improves the driver integration allowing the Baby Grands to rival many single driver designs. In addition, the new speakers are far better at capturing the depth of a recording. As they say, the proof is in the listening, and the Baby Grands were very impressive with amazing coherency, smoothness, and detail. Best news of all? The new Unison crossover technology is retrofittable to current NOLA speakers!