---
Consumer Electronics Show 2013
---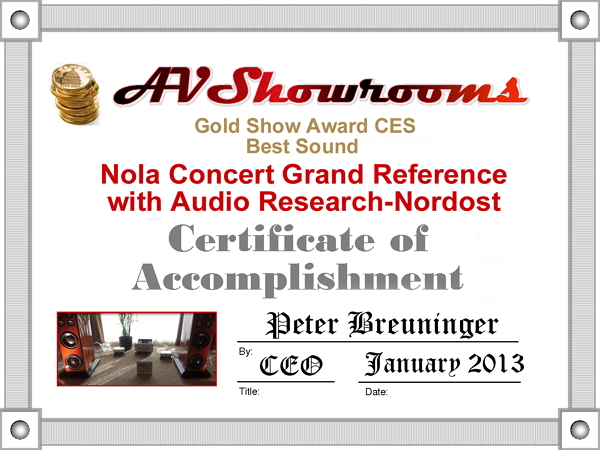 ---

JV's CES 2013 Show Report: Loudspeakers $20k and Above
By Jonathan Valin | Jan 16th, 2013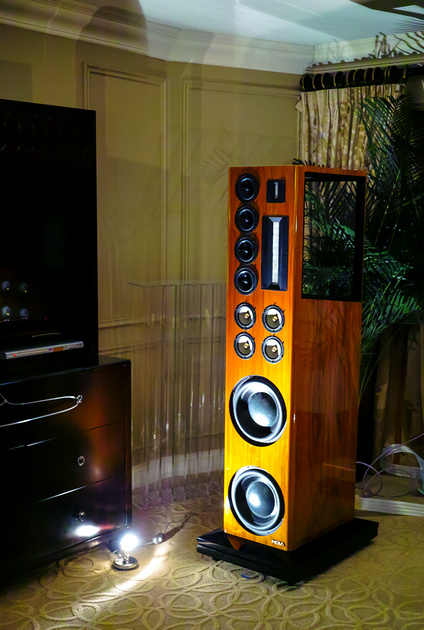 Old hand Carl Marchisotto unveiled his single-box flagship (there is also a two box version, with separate woofer tower) -- the $197k Nola Concert Grand Reference. Like all of Carl's speakers, the Concert Grand combines true ribbon drivers and a plethora of smaller cone midrange drivers (run as dipoles) in an open-baffle "top" section with large woofers in a sealed "lower" section. Carl has clearly done a good deal of work on the woofer enclosure, whose audible resonances used to be the one slight weakness of the Grand Series. As a result, driven (as usual) by ARC electronics, the Concert Grand References sounded breathtakingly of a piece, with that boxless openness and spaciousness that are characteristic of all Marchisotto loudspeakers. There wasn't a thing that I didn't like about them. Clearly a statement-level product that we ought to review -- and a Best Of Show contender.
---

Jim Hannon's Best of Show
The Absolute Sound online blog, 1/25/2013
NOLA Concert Grand Reference/Audio Research electronics (last day of show)
---

Nola's Concert Grand Reference
By John Atkinson · Posted: Jan 16, 2013
The evening before the show officially opened, I snuck into the Nola room at the Venetian. There I found the Long Island company's new Concert Grand Reference speakers ($197,000/pair), driven by an Audio Research CD8 CD player, Reference 10 preamplifier, and Reference 75 amplifier, hooked up with Nordost Odin cabling. A Quantum QX4 provided the system conditioning.
The top, open-baffle section of the 71"-tall, 275 lb Nola speaker combines a vertical array of four 4.5", Alnico-magnet midrange drivers with a 12" true-ribbon tweeter operating above 1kHz and a ribbon supertweeter operating above 10kHz to aid top-octave dispersion. Four magnesium-cone 4.5" drivers, loaded with a reflex port cover the bass and lower midrange, up to 400Hz. These use Alnico magnets and combined have a moving mass 4x lighter than a typical large woofer. Two 12" subwoofers, each loaded with its own reflex sub-enclosure, handle the low bass down to 18Hz.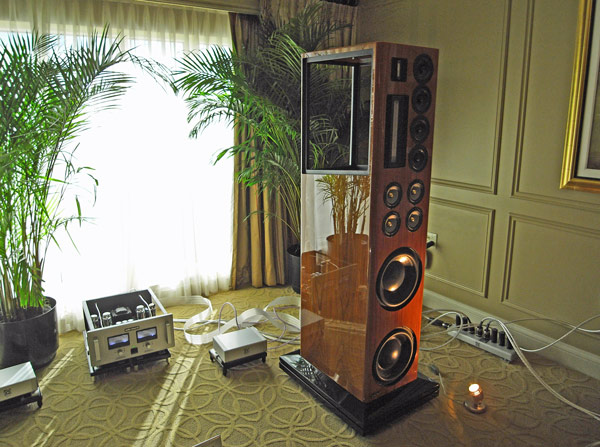 One thing that impressed me was the dressing of the cables behind the open-baffle, show in the detail photo above, which reminded me of the immaculate cable dressing featured in classic Quad amplifiers. The sound was equally impressive; I listened to most of the CD of the Who's Tommy at high sound levels, without any sense of strain or congestion, but with extraordinary retrieval of detail.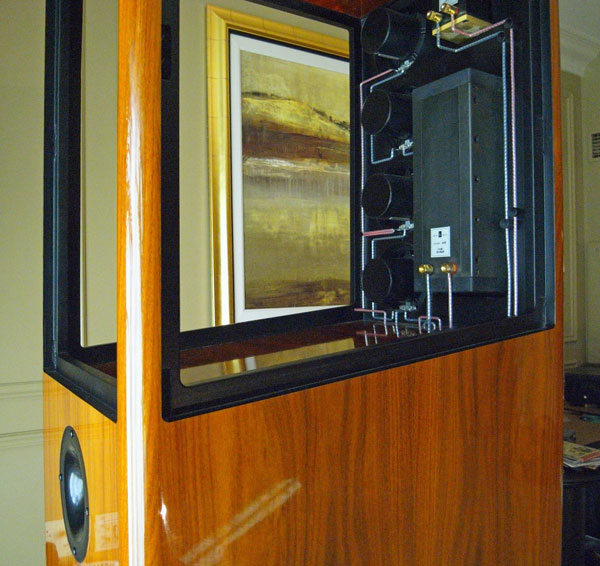 ---

Peak Emotions: The 2013 Jimmy Awards
by Jim Saxon | January 30, 2013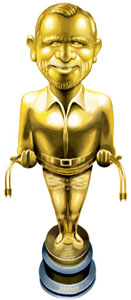 The Concert Grand Reference, a massive 275-pound loudspeaker wedged into a barely-large-enough room, convinced me by its rhythmic drive, harmonic richness and realistic sound pressure levels. Driven by a "mere" 75 watts, the Concert Grand produced the most explosive drum kit I have ever heard. It reproduced Santana's "Black Magic Woman" with an uncanny amount of inner and harmonic detail that I had never heard a thousand times before. The sound of a piano was full-bodied and in-the-room. As anticipated, the big Nolas also did a superb job of conveying Tom Jones's wrenching lament. I left my first encounter with the Nola Concert Grand Reference dazed by the verisimilitude of the various performances and convinced that no system would top its sound.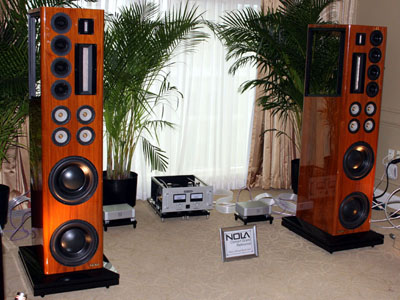 Round three began on the final day with another visit to the ARC/Sonus faber room. By now the benefits of four days of continuous play were easy to discern. The Aidas' frequency response was no longer lumpy but linear. With all drivers meshing, the Aidas, despite their size, got out of the way. Quite clearly, the gap between the Audio Research/SF and Nola/ARC rooms had narrowed dramatically. Were the Aidas dead even with the Concert Grand References? Nonplussed but without much time to "plus" myself, I raced back to hear the big Nolas again. After spending another forty minutes under the spell of the Concert Grand Reference, I was convinced -- but not before a slight pause. This time, I detected a slight "golden" tonal balance on female voice, but which could easily have been the CD, an older recording of a live pop concert -- hardly the basis for tonal neutrality. When the music was switched to studio-recorded orchestral music, my original lofty opinion was reaffirmed.
For presenting a reproduced musical experience as close to "real" as I've ever heard, Nola and Audio Research win the 2013 Best Sound of the Show Jimmy Award.
---

Peak Emotions: The 2013 Jimmy Awards
by Jim Saxon | January 30, 2013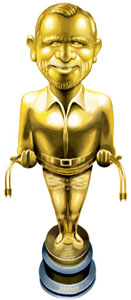 The best loudspeakers under $10,000 were the Nola KOs ($9800 per pair), partly because there were so few floorstanding speakers under $10,000, not serious ones, anyway. Cable manufacturer Nordost smartly chose to show with the KOs. As mentioned above, the KOs revealed a huge difference between rival cable products (Nordost won, of course). But besides being a cable junkie's delight, the KOs had a see-through quality that riveted one's attention. On "What Good Am I?" the KOs captured the drum-skin bounce better than many behemoth speakers did. I could wax turgid in audiophile terms, but since this song is about emotion, let me say that the Nordost/Nola room was one of two that had me welling up, and the other room featured much more expensive gear. For forcing me to pause and wonder what good I am, the Nola KOs win a Peak Emotion Jimmy Award.
---

CES 2013: Nola
by Paul Bolin | February 8, 2013
Carl and Marilyn Marchisotto of Nola took the wraps off the spanking-new Concert Grand Reference speaker ($197,000/pair) and did so to spectacular effect. No, there was no fancy room treatment, no exotic racks, just Audio Research's Reference 10 and Reference CD8 digital player sitting on a table and a Reference 75 amp ($9000, see my preview) between the speakers, all wired up with Nordost Odin cabling and Quantum power products. The Marchisottos held a sneak preview on the Monday evening before the CES began for a handful of audio critics, and after an hour or so Carl was playing highlights from The Who's Tommy from a perfectly ordinary 16/44.1 CD for Stereophile's John Atkinson and me.
John and I are both, shall we say, veteran bass guitarists, and we were paying particular attention to the lines laid down by the late, great John Alec Entwistle, in which we both found ourselves stunned to hear things we simply had never heard before. During one passage in "Underture," I had always believed the Ox to be playing a straightforward "bum, bum, bum-bum-bum" line. Wrong. Entwistle was actually playing a triplet on the first note: "badabum, bum, bum-bum-bum." We looked up at exactly the same moment with looks of joyous amazement on our mugs. Everything Carl played with the Concert Grand had the breath of life, tremendous resolution, and almost shocking dynamic power when called for. And remember, that is with 75 watts per channel.
Likewise, Nola's introduction of the Concert Grand was one of those events that will live long in my memory. Any discussion of the best speakers in the world must include the Concert Grand.
---
Confessions of a Part-Time Audiophile
Posted: January 18, 2013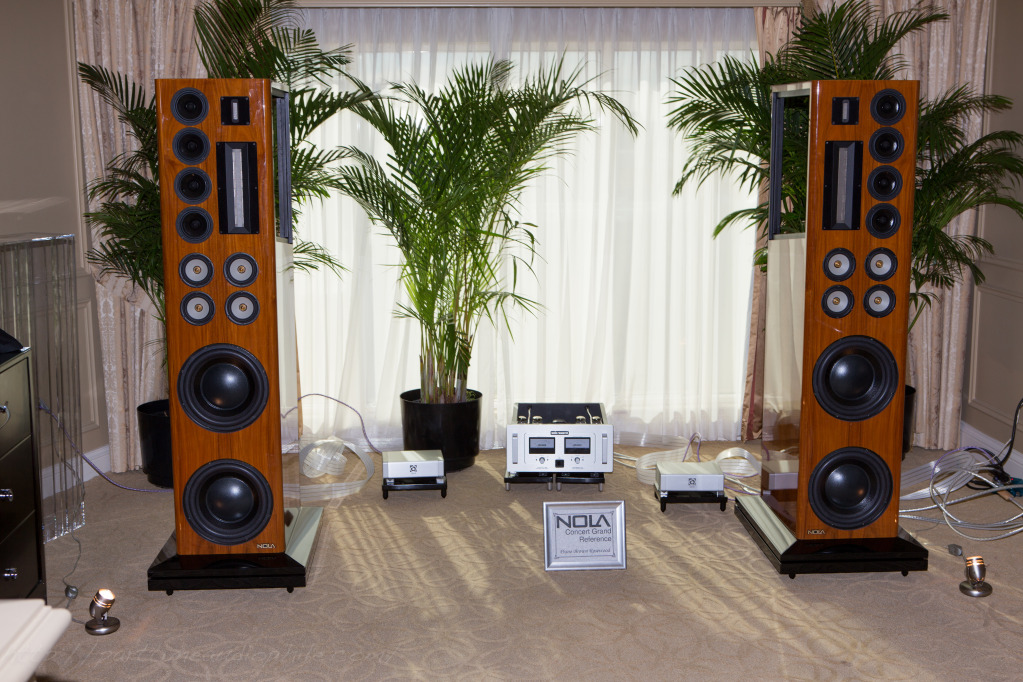 Carl & Marilyn Marchisotto of Nola Audio put on quite a show at CES. The huge guest room at the Venetian was almost not big enough to contain their awesomeness -- they'd have been even better in a big ass Presidential suite a floor (or 5) up the Tower. But here, in this room, the 71" tall monoliths have a thunderous presence that is irresistible. Top to bottom, the seamless coherence is outstanding and the bass ... wow ... just wow. Detail, power, authority, scale ... yes, this was definitely on par with the Best in Show. At any show. Wow! Okay, so the sound field was enormous -- but up close and personal listening might not be an option. It's ... big. And it deserves space. Just sayin'.
Relevant info: 18Hz to 46kHz, with an 8ohm nominal (4ohm minimum), with a weight of 275lbs -- and yes, that's each. Sensitivity is 91dB. The 12" drivers on the bottom of the cabinet are subwoofers -- and there are 4 of them. Four. That explains the bass! There are 8 magnesium 4.5" mid-bass drivers in the upper, open-baffle, portion of the cabinets. These hand off to eight 4.5" midrange drivers which in turn hand off to a 12" long ribbon taking over at 1kHz. A ribbon super-tweeter covers the 10kHz-46kHz portion of the band. "The unique 5-way UnisonTM crossover technology, implemented on six separate boards, to allow one pair of amplifiers or one stereo amplifier to drive the system." Price is $197,000/pair.
These monster speakers were driven to tremendous effect by a 75wpc $9,000 Audio Research Ref75 amp. Yep. 75 watts. Ka-pow. Audio Research completed the audio chain and Nordost Odin cabling wired the lot together.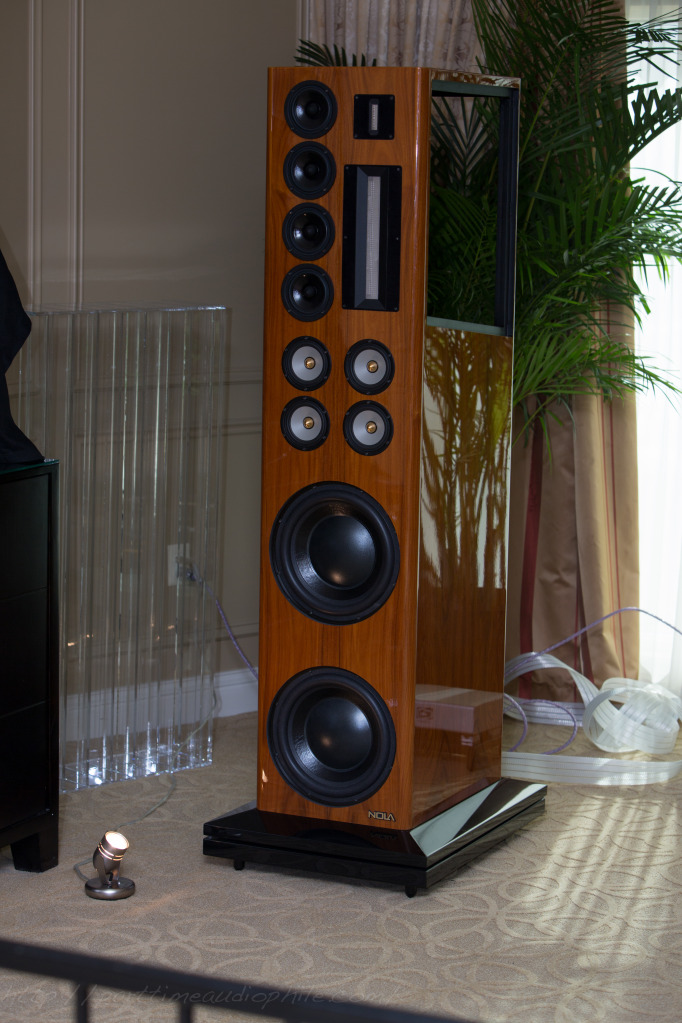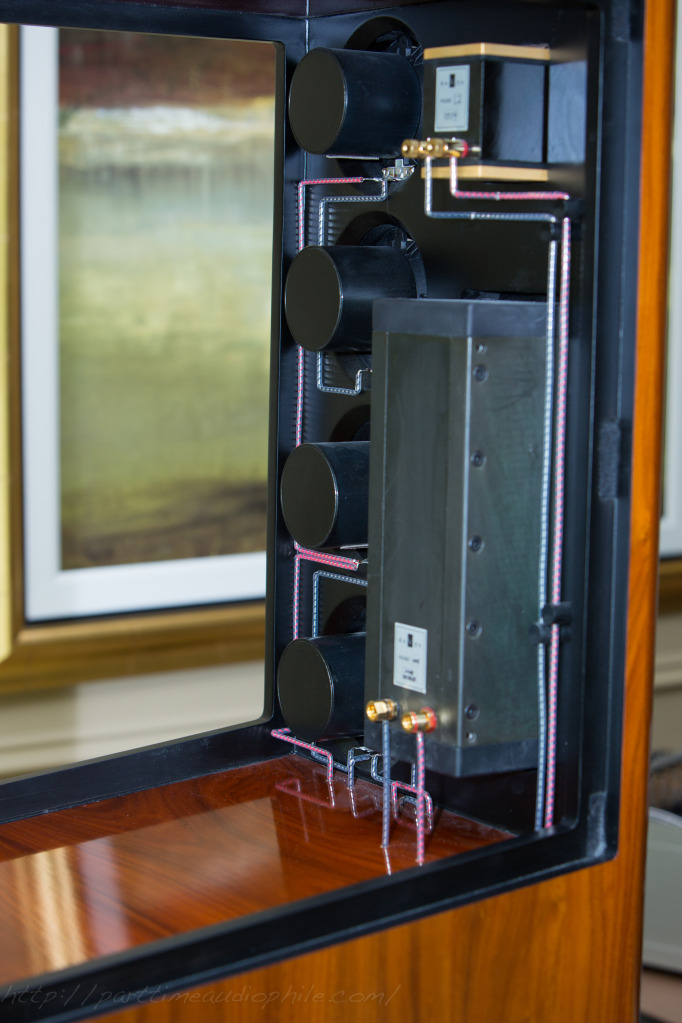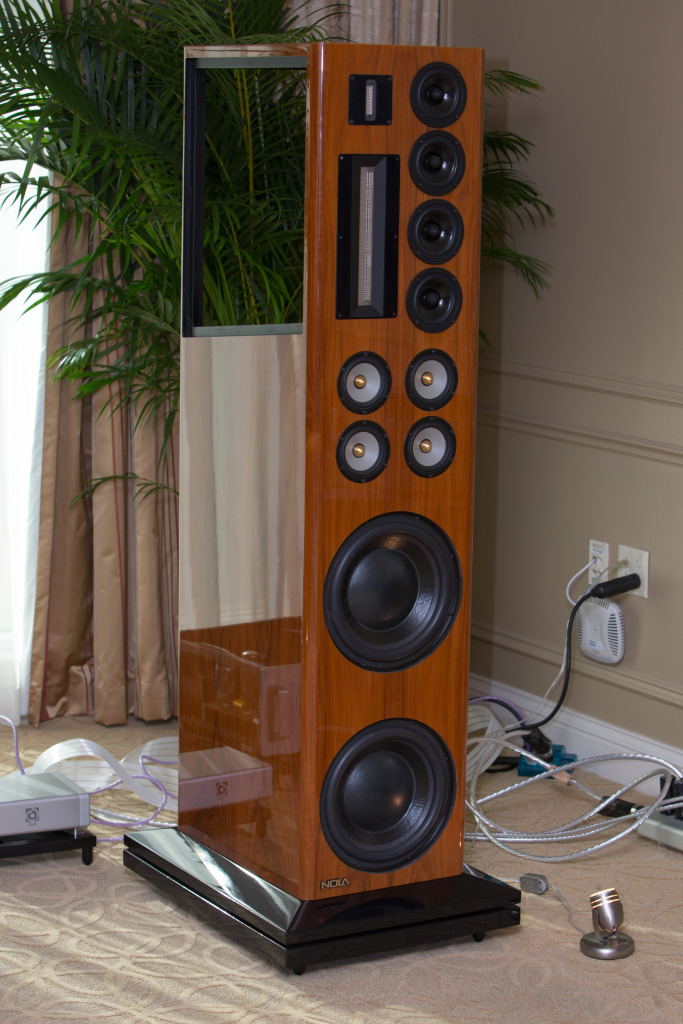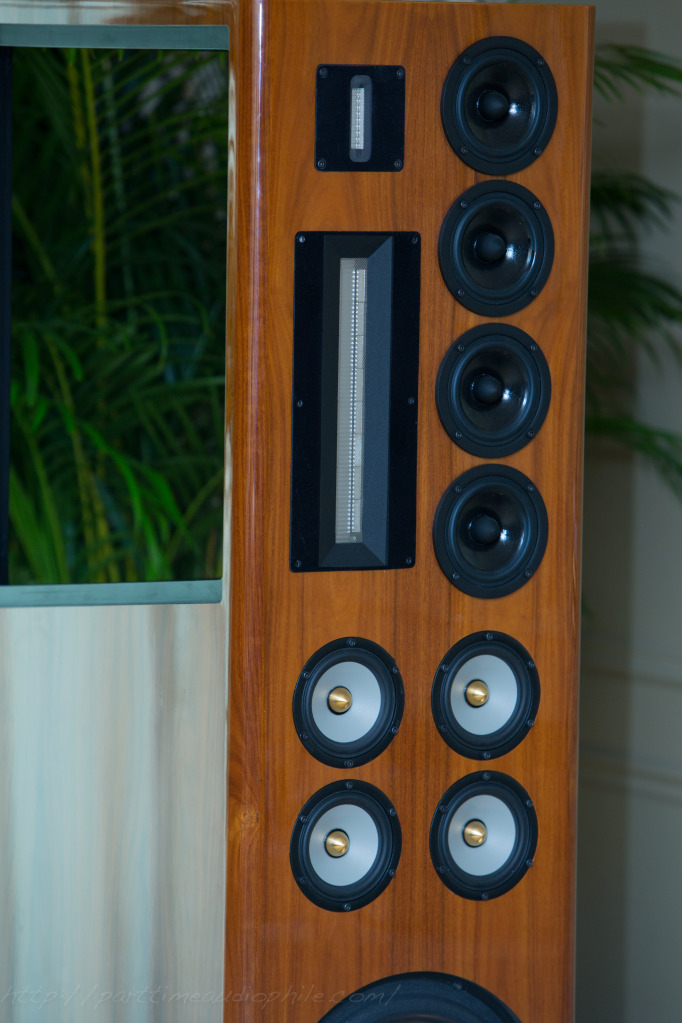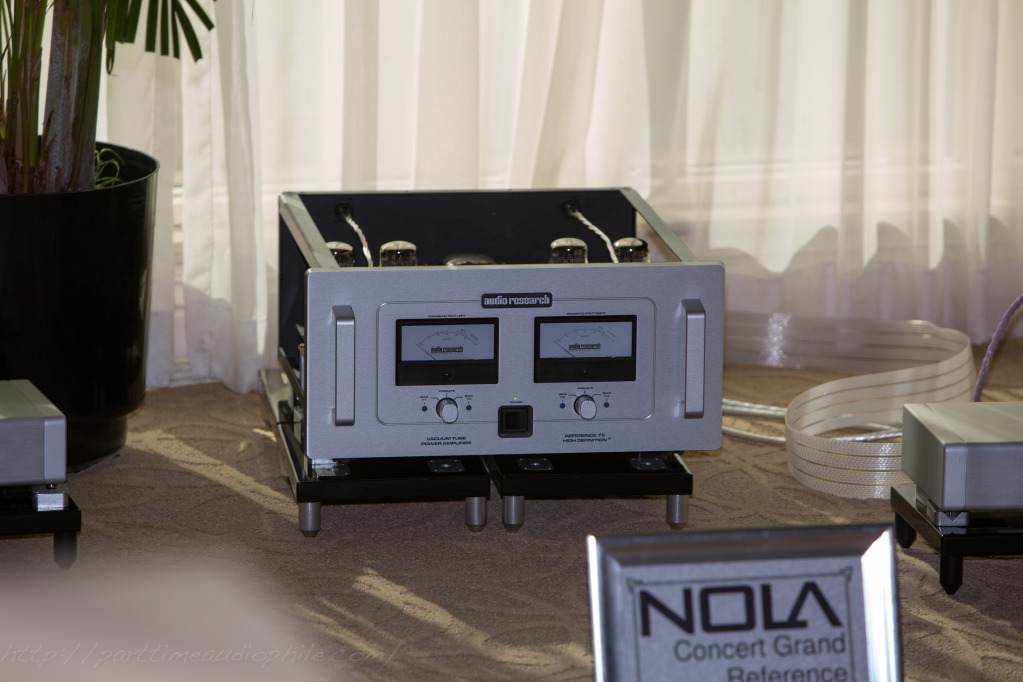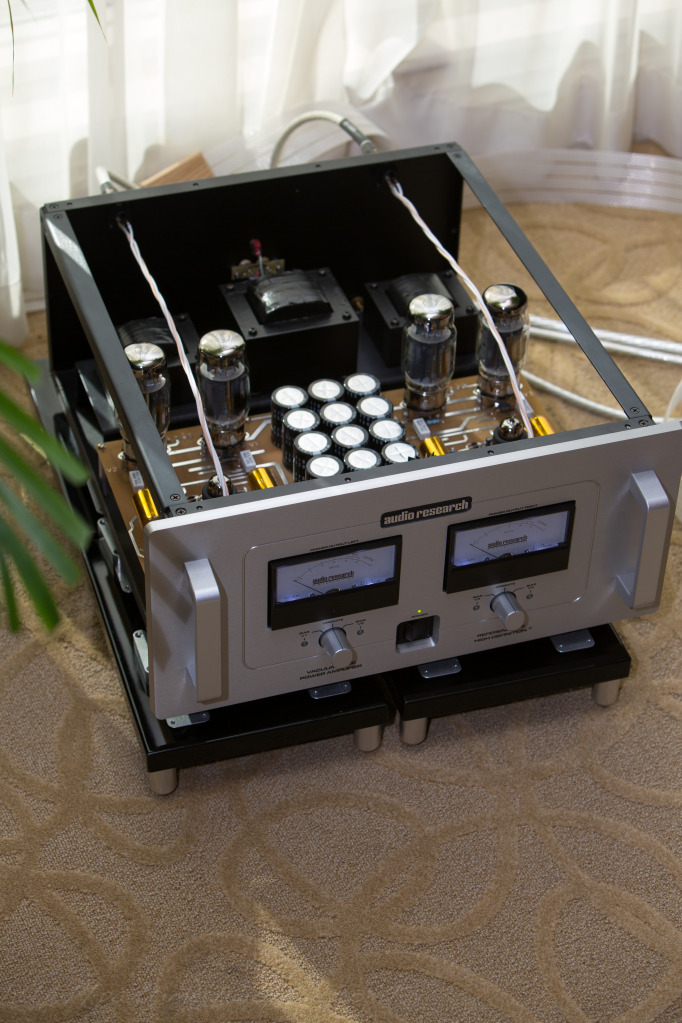 ---

CES 2013: Ultra High-End Audio (Hi-Fi+)
by Alan Sircom | Feb 01, 2013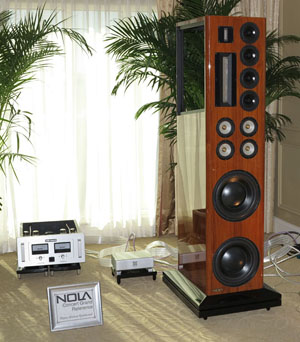 The new Nola Concert Grand Reference loudspeakers tipped the scales at a frisky $197,000 per pair. And yet, they are only second in the Nola range -- that crown goes to the four-box $278,000 Grand Reference IV. In comparison, this 71" high loudspeaker (with its two 12" subwoofers, four 4½" woofers in the enclosed cabinet, another quartet of 4½" midrange, foot-long tweeter ribbon and inch-high super tweeter on the open baffle) is almost compact. It's claimed to plunge to 16Hz, soar to 46kHz, is extremely efficient and sounded excellent, and is very definitely the result of Carl Marchisotto of Nola Audio pushing the design he knows so well to the limits.
The Nola system also demonstrated one of the odd paradoxes of the current market. It used the excellent Audio Research Reference 75 power amplifier as deliverer of juice to the loudspeakers. This was perfect in the role, but you became aware that, amid all the ARC Reference devices up stream and the NOLAs downstream, the power amp was the cheapest device in the whole signal chain, by a fairly substantial amount. Even just a few feet of the yard-upon-yard of Nordost Odin in the system would have out-priced the Ref 75.
---

International CES and T.H.E. Show 2013 - Part 2
by Steve Lefkowicz
I think most people can agree that over the last many years, Carl Marchisotto's speakers have to be included amongst the great products in high-end audio, and I don't think anyone seeing or hearing his new Concert Grand Reference speakers ($197,000/pair) would think otherwise. Two things I thought about; these cost more than any house I've ever bought, and they weren't the most expensive speakers I saw at the show. I can't really wrap my head around products like this, but I am glad they exist. I'm also glad Carl directs a lot of talent towards more affordable speakers, too.

---
CES 2013
Posted by: Mike Denley, January 8, 2013
Today at 2013 CES, I had the extreme pleasure of listening to your Reference Loudspeakers.
The sound was thrilling. I don't know how else to characterize it. I had never heard of your company before now. My bad.
I was headed down the hallway to another company and heard the sound and popped in. Everyone was hospitible.
I liked your 'The Gloves are Off' campaign.
Although today I cannot see being able to afford your flagship offering (winning the lottery excepted and I don't play)...I would like to!
Thanks for making such a wonderful product.
You should know I went by the Wilson people shortly after visiting your presentation, and although I had high hopes I would enjoy their product...I found their sound to be 'stuffy' or muffled. Not even a close second to your offering.
Congratulations!!!
---

Posted January 11, 2013
The manufacturer of the Concert Grand NOLA Reference model dazzles the audience szájtáti casino town. The impressive-looking speakers are not sold for a song. The reference model is a high price $ 197,000 U.S. dollars per pair.
In Concert Grand Reference is an open, advanced voice guidance with operating model. The twelve speakers each speaker being applied in order to ensure a natural sound. The manufacturer was essential for lightweight, responsive drivers use lightly. Each channel is a pair of 12" diameter subwoofer was separated, open sound chamber to the low-frequency coverage of 18 Hz (!) Process. Four magnesium diaphragm, 4.5" diameter woofer housed on the top, is also open sound chamber. They cover the medium-low ranges . Their specialty is a super light weight is at least four times lighter than a typical midbass drivers.
Also, four 4.5" midrange driver work in the showdown, open dipole arrangements. Designs of hand-built premium Alnico magnet system and were ultra-light, triple laminated membrane.
Employees tweeter is a special model designed specifically for the Nola, the Raven 12" long ribbon driver. A Nola Concert Grand Reference Model is a unique, five-way crossover system works. Producing various high-gloss piano lacquer finish and finish preparing the models, but also work on special order, not just a handful of apróért.
---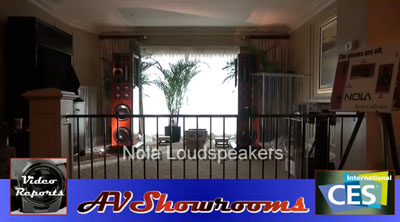 avshowrooms-thumbnail.jpg

---