---
Hi End Show, Munich Germany 2012
---
NOLA DEBUTS NEW GRAND REFERENCE VI AT 2012 MUNICH HI END SHOW
---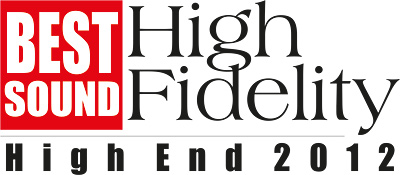 NOLA GRAND REFERENCE VI wins High Fidelity magazine award for BEST SOUND at the 2012 Munich Hi End Show.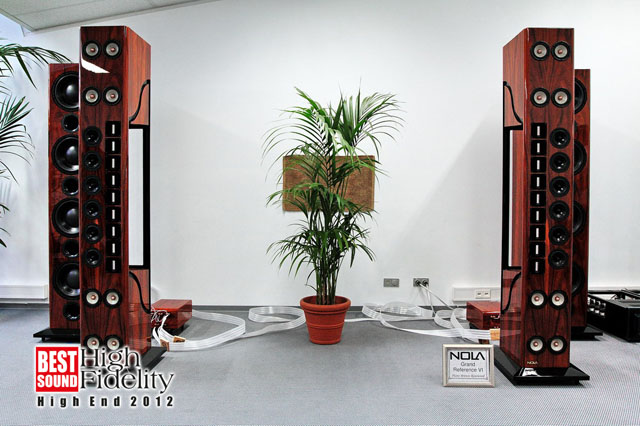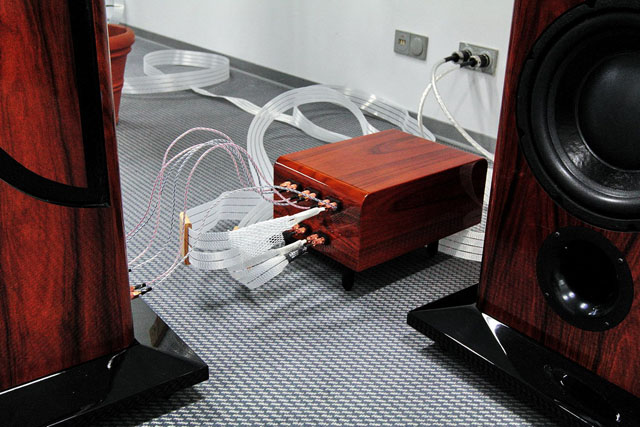 ---
2012 Munich Hi End Show coverage courtesy of hificlube.net:
---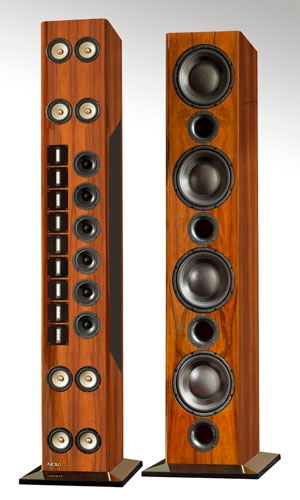 Rarely seen in public at shows, the Nola Grand Reference 6 ($278,000) quad tower speaker with external crossovers only needs a normal stereo amplifier. The sound was indeed effortless and with great dynamic range... and sweet, sweet highs! Deeee-lish!
---

NOLA will debut the Grand Reference VI at the upcoming 2012 Munich Hi End Show. This 4 tower system is our flagship and now incorporates Unison Crossover Technology so one pair of mono block amplifiers or one stereo amplifier can drive all four towers. Drive units have been upgraded to reduce moving mass and increase speed across the board. Nola says that "This system is considered by many to be the finest loudspeaker system available."
NOLA will also debut, in conjunction with Upscale Audio, the KO loudspeaker at THE SHOW NEWPORT BEACH on June 1-3. KO is the top of the Boxer collection and incorporates state of the art NOLA Reference Series concepts at a much more affordable price. Utilizing our mirror-imaged short line source open baffle array. The KO can fill medium to large rooms with ease, while providing very high sound quality. KO employs four 4½" open baffle dipole midranges, four 1" exotic silk dome tweeters and 2 cast-frame aluminum cone bass drivers in separate ported chambers. A 90 dB sensitivity combined with an 8 ohm impedance allows KO to be driven by a large selection of amplifiers, including vacuum tube units. New Unison Crossover Technology provides improved power utilization for higher effective efficiency. KO is supplied in Piano Cherry or Piano Black and includes four grilles, including the front. Matching piano black base and deluxe spikes are also included.
---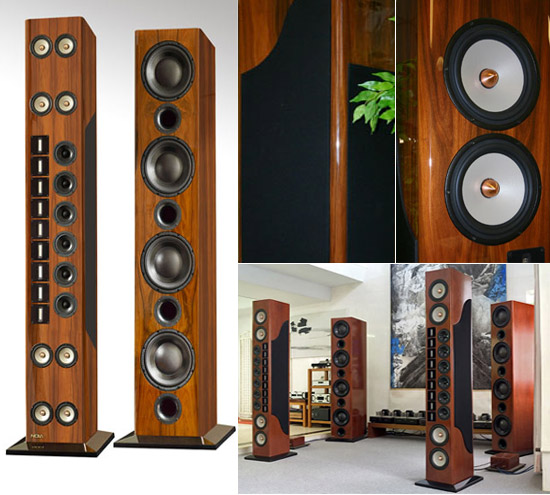 In the arena of floor standing speakers, which has now become increasingly crowded as well, there are only handfuls that give out the realism of sound, as it was always meant to be. We saw a host of high-end audio at CES 2012, which most apparently impress users with their looks, technology following suit. But for the NOLA grand Reference VI floor standing speakers, its purely about the high-end audio experience for even the most demanding of audiophiles. Comprising of a total unit of 8 different towers with varied functionality, The Grand Reference VI is meant for not just the discerning audiophile, but also someone who is looking to set up a grand stage for a thorough experience. However, no word on the price just as yet.
For a system to come together, that too at a time, when most small things are going great guns, the Grand Reference VI stands a complete contrast; the complete system comprises of 8 towers which aren't very small. This sends out a message to grand mansion owners and their demands for a great audio experience, which they could also show of their speakers. The 8 towers comprise of 2 Main towers, 2 external passive crossover units, 2 passive subwoofer towers, and 2 IP 1-A ball bearing crossover isolation platforms. Technology wise, the hi-points of the system will be the 54 premium transducers which have been fitted in the system, along with true ribbon tweeters which have been empowered with neodymium magnets, which works for removal of low distortion. These come coupled with the magnesium woofers that play the most crucial role for pumping in the 'life' that the speaker set differentiates itself with. Talking of the numbers, the entire system has a 12Hz to 46 KHz frequency response range, along with the sensitivity of 91dB at 2.82 volts. The output level however, goes up to 120 dB.
As for the body fabrication goes its rosewood piano grade in natural color, or with black enameling on special order. The only factor knocking on the doubtful door is the overall weight, with each tower pegged at 300-lbs each. But then, when you are creating your grand theater, it shouldn't matter much to have it as a part of one's collection.
---
MONO AND STEREO