---
Hi End Show, Munich Germany 2013
---


Munich High End 2013
By Tyll Hertsens -- Posted: May 12, 2013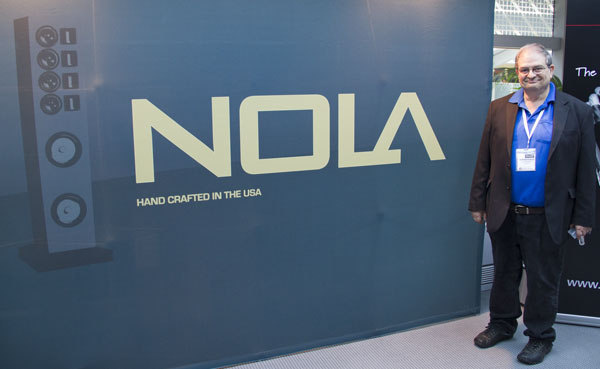 Pulling off both expansive and punchy is quite the trick, but the Nola Baby Grand Reference Gold did so with aplomb. Standing about five feet tall with two 220mm magnesium-coned, alnico ring-magnet bass drivers within the lower cabinet, and above, four low-mass tri-laminate pulp-based cone midrange drivers open to rear aside four Raal 70-10D ribbon tweeters, the Nolas strike an imposing presence. But not nearly so imposing as their sound, which was a rich, powerful, and room-filling experience. 'Course they were lit up by an all Audio Research front end, including a CD9 CD Player, Reference 5E Preamp, and Reference 75 power amp, all strung together by a glorious tangle of Nordost cables. A real treat.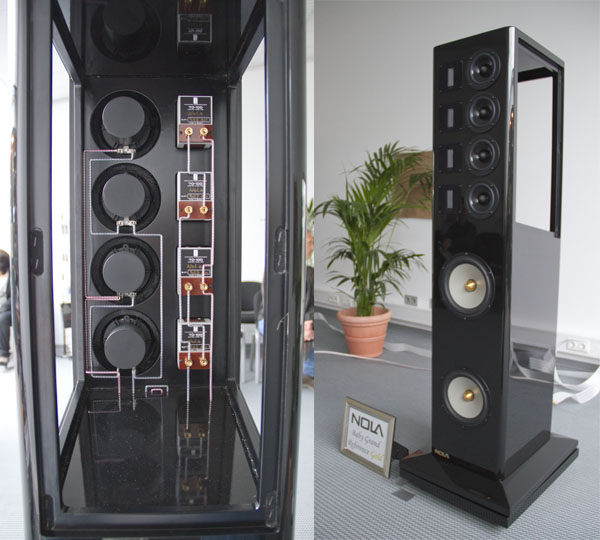 Carl Marchisotto tells me the ribbon drivers are extraordinarily wide bandwidth extending out to 100kHz, which, he promised, provides a sweet, smooth sound. I'd have to agree. I'm strongly averse to a strident top, and these baby's tickle my ears in a very good way.

The Nola Baby Grand Reference Gold is available fairly broadly at about 30 dealers in the US at $72,000/pair. The Baby Grands are in the middle of Nola's range with two models both above and below. Geez, it's so easy to have expensive taste.
---
Confessions of a Part-Time Audiophile
Hifi Pig in Munich
Posted on May 14, 2013

Nola Nola is based in Holbrook in New York and make a wide range of loudspeakers for home audio and for two channel listening. The company's flagship product is the 2 boxes per side Grand Reference VI but here we were listening to the Baby Grand Reference Gold Loudspeaker. They are handmade and crafted in the USA.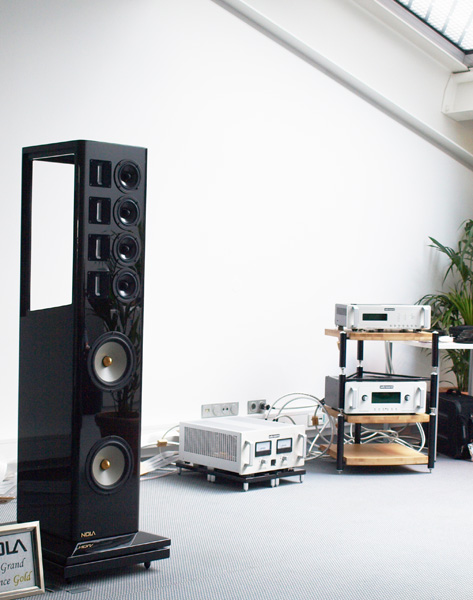 When we entered the room there was a guy on the telephone (to someone in Switzerland by the sound of it) and no music so we had to wait a good while for him to finish his conversation before he decided it was time to put on the music.

Front end electronics were, as you can see from the photograph, Audio Research.

The Baby Grand Reference Gold is an interesting looking loudspeaker. It has two 220 mm magnesium bass transducers which incorporate massive Alnico ring magnets and also incorporate solid copper phase plugs that have been gold-plated. The woofers are housed in a cabinet but the rest of the drivers are open baffle.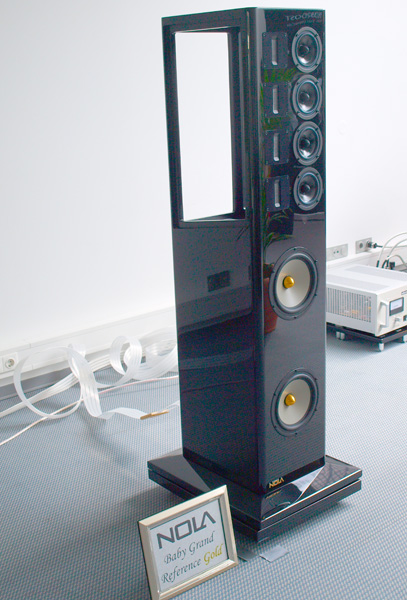 There are four mid drivers and four ribbon tweeters in the open baffle part of the Baby Grand. The speakers use a Unison three and a half way crossover using silver/gold/oil polypropylene capacitors hand wired on three crossover boards which are mounted internally. The speakers are 89dB sensitive and cover a claimed 20Hz to 100kHz frequency range.

It has to be said that these loudspeakers look exceptionally well made and the finish was superb. They are also quite imposing at 62 inches in height.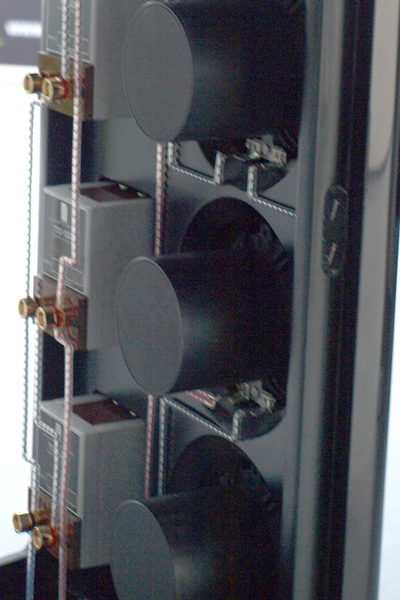 What did they sound like? Given the guy in the rooms rudeness I really didn't want to like these loudspeakers but I did -- a good deal. They do very deep and very nicely controlled bass. They also do very nice mids and top end with the characteristic feel that open baffle systems have. The ribbon tweeters I feel add a great deal to the mix and the upper frequency range has a great feeling of space. Soundstage was very good -- deep and wide. I'd love to hear these playing well produced techno!
---


Munich High End 2013 Show Report
Show report
by Jonathan Valin | May 17th, 2013

I visited the Nola room where Carl Marchisotto was showing his new $72k Baby Grand Gold ribbon/cone floorstanders. The Grand Golds were very open and expansive sounding (as all Nolas are) but with better integrated bass than previous Babies. This was a very lively sound, albeit a bit dark in balance.
---

Nola Loudspeakers, High End Munich
---