---
T.H.E. Show, Newport Beach, CA 2012
---

THE Show Newport Beach 2012
Posted by: Neil Gader at 9:09 am, June 8th, 2012
Best sound - highest value
The new Nola KO loudspeakers ($9.8k) really are a full-range, heavyweight knockout in this competitive segment.
"And in this corner!" is the latest entry in Nola Speakers hard-charging Boxer Collection that already includes the stand-mount Boxer and the small floorstanding Contender. So what else could it be called but the KO ($9.8k)? Its configuration is Nola's mirror-image, short-line-source, open-baffle array that uses four 4.5" mids, and four 1" silk domes. Bass is handled by a pair of 7" woofers loaded in separate chambers in the lower half of the enclosure. Easy to drive at 90dB and 8-ohm impedance this speaker wielded a heavy dynamic punch and, as the name implies, was a knockout. Due this fall."
---

THE Show Newport Beach 2012
Posted by: Alan Taffel at 11:11 am, June 11th, 2012
Greatest Bargain
"Although not cheap, the new Nola KO is relatively accessible at $9800. More importantly, it sounded like it cost a lot more."
---

PrimaLuna & Nola: Another Winning Combo
By Jason Victor Serinus · Posted: Jun 9, 2012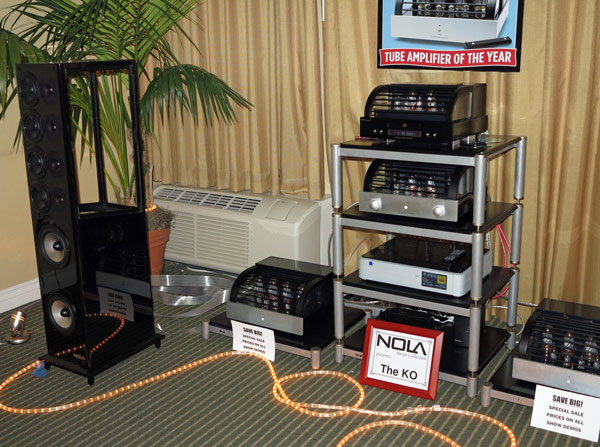 You couldn't miss the signage for PrimaLuna and Nola; it was as big as the excellent signage for T.H.E. Show itself. You also couldn't miss the sound: lovely, warm, and extremely inviting. Although the system was playing a bit too loud for the room, the system handled bass extremely well, and made timbres on a (yes) Diana Krall recording pretty natural. Doing the honors were the Nola KO loudspeaker ($9800/pair) and three components from PrimaLuna: Premium CD player ($3995), DiaLogue 3 linestage preamplifier ($2695), and DiaLogue 7 monoblock amplifiers ($5495/pair).
---

Stayin' Alive with Soundstring
By Jason Victor Serinus · Posted: Jun 9, 2012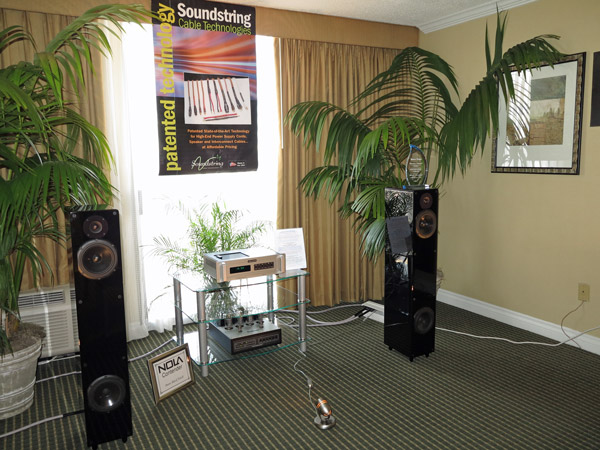 Bless Len Miller of Soundstring Cable Technologies for providing me with a solid presentation of John Travolta's "Stayin' Alive." As my pace increased as I attempted to cover four floors in three days, this music became a mantra of sorts.
To his credit, Len also supplied a full list of room components. Doing the honors were, first and foremost, Soundstring's GEN II Platinum Series power cords, interconnects and speaker cables. The 6' GEN II Beta 2-22NS single-ended interconnects ($570/pair), 8' GEN II Gamma 2-12 speaker cables ($750/pair), and 6' GEN II Gamma 4-12 "Special Edition" high output 30 amp power supply cords ($1345 each). These babies were dancing hard with Carl and Marilyn Marchisotto's Nola Contender loudspeakers ($3600/pair), Audio Research VSi-60 integrated tube amplifier ($4495 and a Stereophile "Component of the Year"), and Audio Research CD5 CD player and digital transport ($5995).
---

THE Show Newport 2012 · Hot Product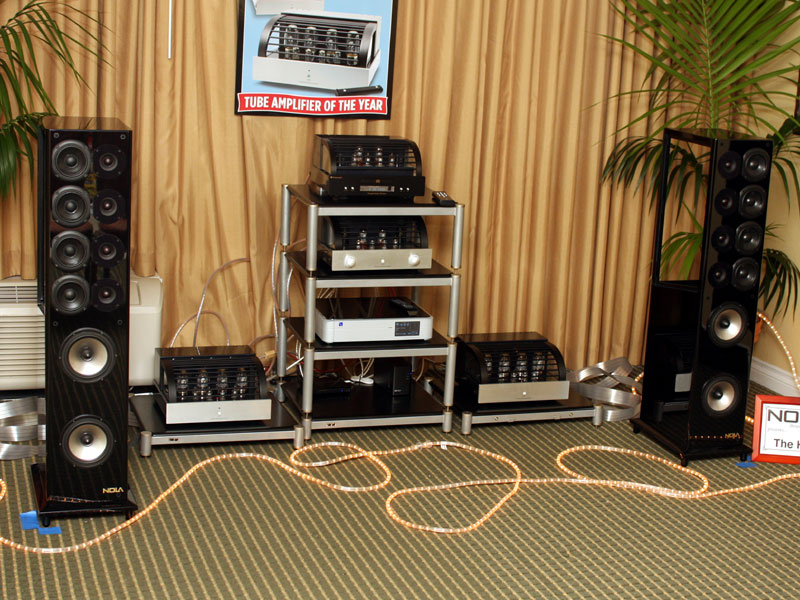 Nola's new KO speaker is part of a series with the Boxer and Contender -- all boxing references. It looked and, more importantly sounded, like it cost much more than its $9800-per-pair price would suggest. The sound was big and spatially unfettered with taut, powerful bass -- a knockout combination, as Nola would assert.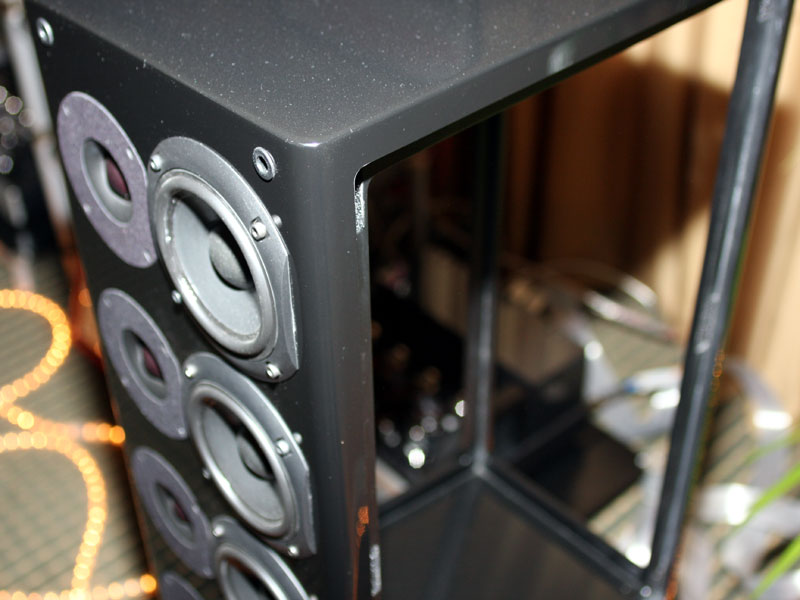 The KO uses uses four 1" silk-dome tweeters and four 4" midrange drivers in its open upper section. Like larger and more expensive Nola floorstanders, this part of the cabinet is open on the sides and rear, no doubt helping the speaker sound as open as it does.
---


T.H.E. Show Newport Beach 2012
Report By Steven R. Rochlin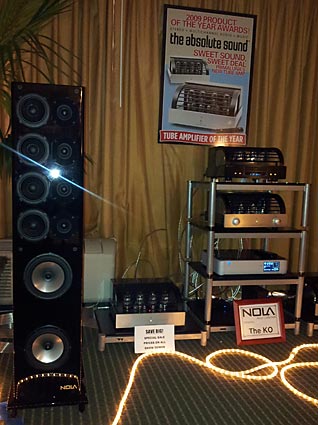 Nola had their very dynamic KO floorstander ($9800) driven by PrimaLuna tube amps. Seems many rooms were using PrimaLuna to good affect and here the Nola speakers really showed their top caliber sound.