---
T.H.E. Show, Newport Beach, CA 2013
---

NOLA Debuts Micro Grand Reference Gold Loudspeaker at THE Show-Newport
By Jim Hannon | June 17th, 2013
One of the best things about attending audio shows is getting to hear really promising products about to be introduced. From an editorial perspective, it helps bring to our attention products that merit full reviews. As an audiophile and music lover, shows also can set me to day-dreaming about products Iíd like to have in my home for an extended period of time.
Perhaps the most stunning new loudspeaker I heard at THE Show-Newport was the world premiere of NOLAís new Micro Grand Reference Gold Loudspeaker. Having heard the remarkable improvements that the new gold-series enhancements brought to the Baby Grand Reference Gold in Munich, I was excited to hear what they could do for a speaker more within the confines of my limited budget.
In the case of the Micro Grand Reference Gold, these significant improvements include: completely new, proprietary gold magnesium cone woofers driven by massive Alnico ring magnets; gold plated copper phase plugs; a new true ribbon tweeter that reportedly extends response to 100 kHz; and cutting edge silver/gold/oil/polypropylene capacitors for the 3-board crossover. As was the case in the Baby Grand Reference Gold, these new gold additions vault the Micro to new performance heights, particularly in the areas of bass definition and extension, coherence, fine detail resolution, transient quickness, and high-end extension. However, these enhancements come at a cost, as the price of the Micro Grand Reference Gold is $22,200 (attributable to the high cost of the new and improved drivers, larger Alnico magnets, and the use of gold).
I lived happily for some time with the original NOLA Metro Grand Reference and really appreciate the advantages of the open baffle design. In a system consisting of the VAC DAC and VAC 160i integrated amplifier, Esoteric transport, and Nordost cables, the new Micro Gold produced an enormous and well-defined lateral soundstage that extended far beyond the outside boundaries of the speakers. Soundstage depth was very good, but may have been hampered by the relatively low 8-foot ceilings of the hotel room. Fine detail resolution was first-rate, and the leading edges of transients were replicated very cleanly.
While the Micro Gold doesnít plumb the depths like the Baby Grand Gold, bass went down with authority to the mid-30s (Master-designer Carl Marchisotto measured it at 6dB down at 31 Hz in the Newport hotel room) and I found it surprisingly satisfying for a stand-mounted speaker in a relatively small package and footprint. Its bass performance is far better than my restored original Quads in terms of extension, weight, and dynamic range. While thatís true of a lot of floorstanders, itís not as true for stand-mounts, and the Micro Goldís bass may lead the pack in overall bass performance among stand-mounted loudspeakers.
Listening to a Frank Sinatra recording, Live at the Sands, I was amazed at the Micro Goldís ability to deliver such micro-fine details and dramatic dynamic swings while still sounding natural. This enabled me to more fully enjoy Sinatraís performance like his renowned phrasing, the air behind his voice, and more.
It can be dangerous to crow so loudly about a new product under show conditions, but thereís no doubt in my mind that NOLA made an auspicious debut with its Micro Grand Reference Gold loudspeaker. I hope I get a chance to examine these fine speakers more closely in my own listening environment.
---

Nola Micro Grand Reference Gold Debut
By Jason Victor Serinus · Posted: Jun 4, 2013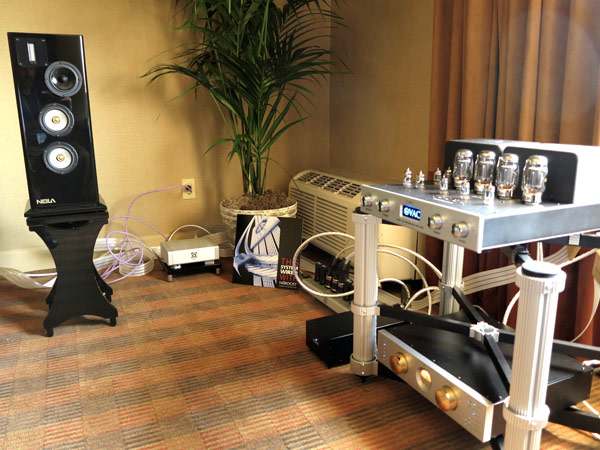 T.H.E. Show Newport Beach presented two opportunities to hear the encouraging debut of the Nola Micro Grand Reference Gold loudspeaker ($22,200/pair with stands). On both occasions, the speaker was paired with Nordost cabling, this time top-of-the-line Odin throughout.
Fed by an excellent Esoteric K-01 used as a transport, VAC tube DAC, and VAC 160i integrated amp, with noise quieted by two Nordost Quantums, the Nola Micro Grand Reference Gold loudspeaker was making beautiful music. Once the stereo Marchisottos quieted down, and Carl was able to play music undisturbed, it was impossible not to warm to his soothing choice of bossa nova. The CD he played had such beautiful depth that it was easy to imagine that it was a high-resolution file. The soundstage was all encompassing, as in fabulous, yet the sound of the triangle extremely delicate. The longer I listened, the more I was convinced that his speaker's tweeter is very special.
Listening to a selection from the famed Mercury Living Presence 35mm recording of Prokofiev's Romeo and Juliet, again I found the sound lovely and dreamy. The divided violins were especially captivating. Bravo.
---

THE Show Newport 2012 · Hot Product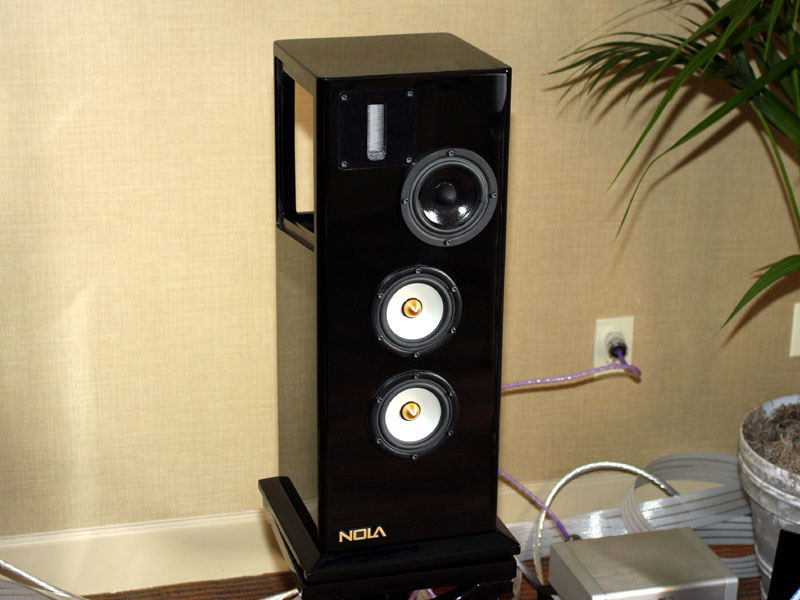 Nola debuted two speakers that share driver and crossover technologies -- and, at least for the speakers shown, the same hard-to-photograph piano-black finish. It's difficult to call the Micro Grand Reference Gold (above, $22,200/pair with stands) a minimonitor. It's actually about half the height of a mid-sized floorstander. It uses a newly developed ribbon tweeter and magnesium-cone bass drivers with gold-plated phase plugs "to provide damping by the soft gold layer."
The Metro Grand Reference Gold ($33,000/pair) uses identical drivers as its smaller mate, but its woofers are larger -- 6 1/4" versus 4 3/4".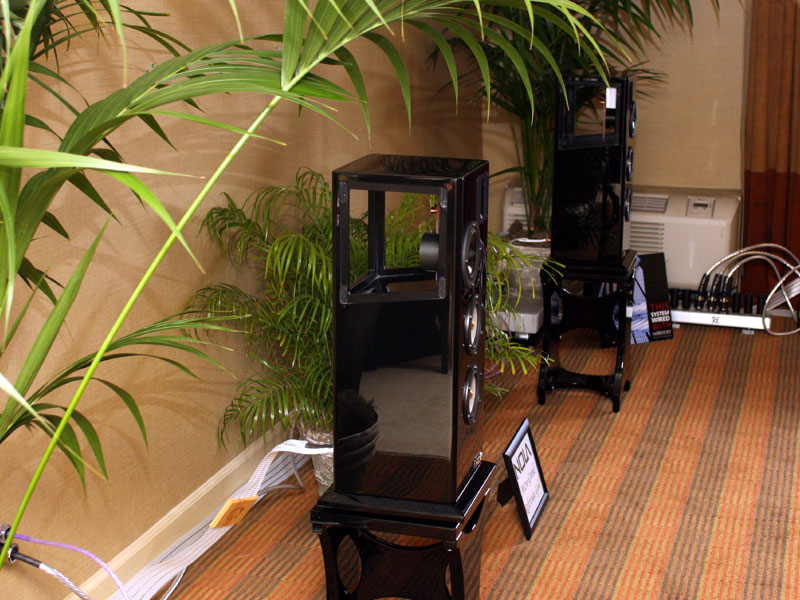 Although it was easier to see with the grilleless Micro, both speakers feature Nola's "enclosureless enclosure" for the tweeter and midrange. Both also use Nordost silver wire throughout.
---

T.H.E. Show Newport Beach 2012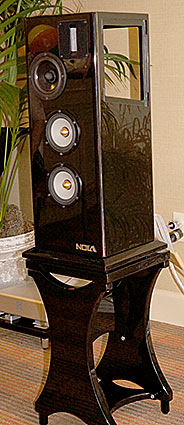 Nola Micro Grand Reverence Gold large monitors ($22,200 with stands). that has new woofers with massive Alnico ring magnets and gold phase plugs. There is also a new ribbon tweeter that can reach pwards of 100 kHz. Overall frequency response if from 34 Hz to 100 kHz and when it comes to cabinet finishes, Nola knocks it out of the Park. Of course you can choose from True Piano Rosewood with True Piano Black bases or upgrade it to Piano Black as seen here, with other finishes available by special order.
---


T.H.E. Show Newport Beach 2013
Report By Adam LaBarge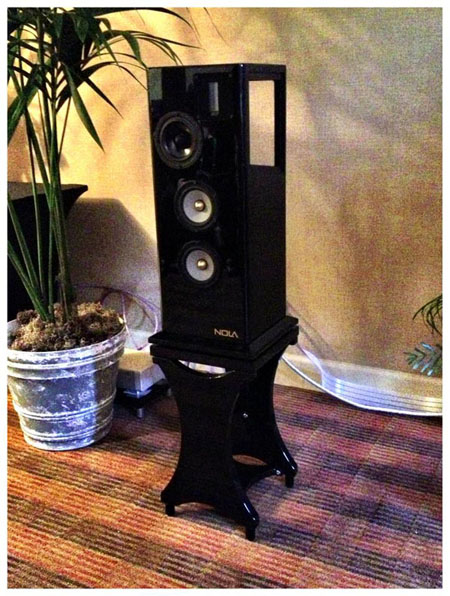 Nola Micro Grand Gold speaker -- ribbon tweeter extends to 100k -- $22,200 w/ stand. Very good sounding.
---


T.H.E Show, Newport Beach 2013: Photoblog - Turntables & Speakers
Report By Pete Trewin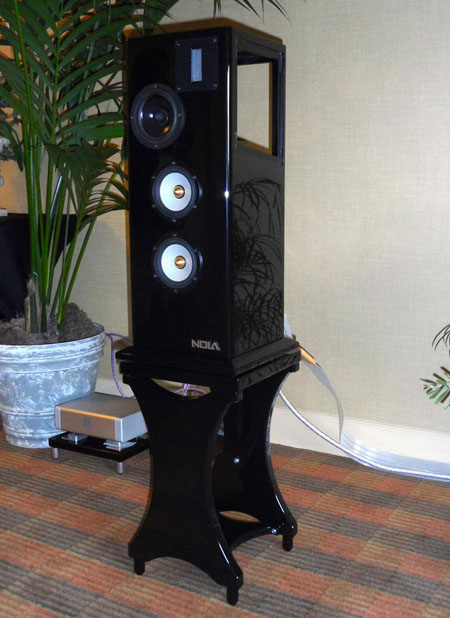 As usual the Nola room was friendly, welcoming and there were some good sounds in the room as well! This was the first outing for the company's new Alnico-magnet wielding Micro Grand Reference Gold standmount.