---
Rocky Mountain Audio Fest 2010
---


RMAF 2010 Show Report
Nola & Audio Research
Posted Fri Oct 22, 2010, 3:46 PM ET
By John Atkinson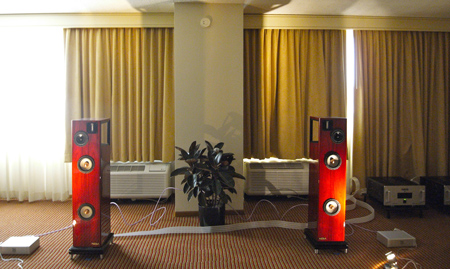 New York-based Nola was showing its Metro Grand Reference speakers at RMAF ($25,000/pair). Combining a Raven ribbon tweeter and a 4" midrange, both mounted on an open baffle, with two 6.5" reflex-loaded woofers, this slim tower, driven by an Audio Research Reference 210 power amplfier, Reference 5 preamplifier, and CD8 CD player via Nordost cabling, produced more bass than I thought possible, given its modest drive-unit array. The response is specified as being 6dB down at a low 26Hz. This was one of several systems at RMAF using the Quantum QX4 AC treatment device from Nordost.
---

---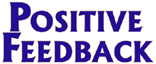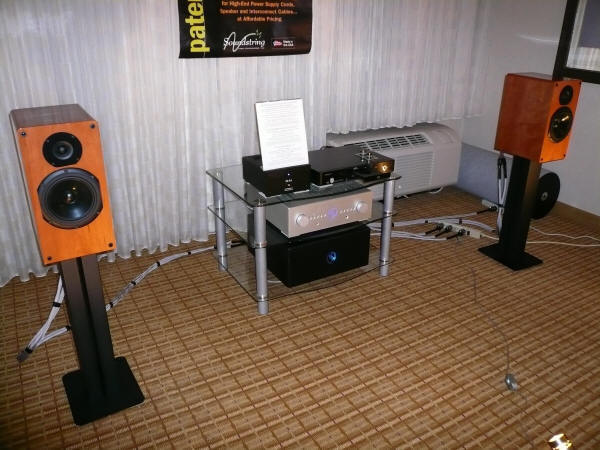 ModWright electronics, Nola speakers, Soundstring cables
One of the things about a tradeshow like RMAF is the chatter and note swapping in the hallways. Just so, we were advised to check out the Nola speaker rooms, and this one was a discovery for high value/low cost. It held my attention twice as long as some of the big boys. There were no flaws of commission, while many things were right. With an approximate system cost of $15,000, it represents very good value.
---


Jonathan Valin on Loudspeakers Priced at $20,000 and Above
I'll conclude with Carl Marchisotto's $25k Nola Metro Grand Reference, which combines an open-baffle ribbon tweeter with an open-baffle Alnico-magnet midrange and two 6.5-inch magnesium woofers in a ported floorstanding enclosure. Like so many other exhibitors, Carl was using a tape player (one of Greg Beron's United Home Audio modified Tascams) as a source; the electronics were Audio Research. Having recently reviewed Carl's superb Baby Grand References in TAS, I was shocked at the sonic family resemblance between them and the much smaller, much less elaborate, and much less expensive Metros. You would simply have to hear the Metros to believe the quantity and quality of its bass (even in what was a relatively large room). As with the Baby Grands, the blend between ribbons and cones (a Marchisotto trademark) is kind of astonishing. On the orchestral tracks I listened to (dubbed from LP by Beron), the sound was just terrific. Open, detailed, dynamic as all get-out, and quite realistic. Another one of the best sounds at RMAF, and another Marchisotto triumph.
JV's Best of Show
Greatest Bargain
As usual, this is a tough one for me, since no speaker priced at $20k or more really qualifies as a "bargain"; however, given this stricture, I would say that Analysis Audio Omegas and the Nola Metro Grand References would tie for best "bargain." (I suppose one could also make a case for the Magico Q5, seeing that it outdoes Magico's previous flagship, the M5, and costs $30,000 less!)
---

The Nola Metro Grand Reference sounded fantastic at $25,000: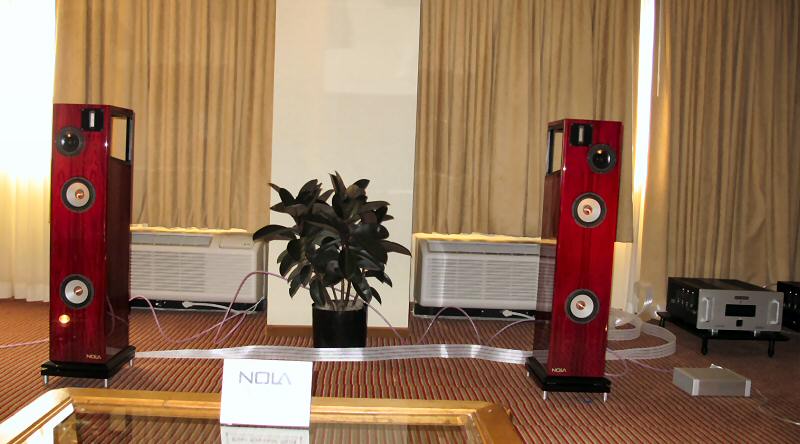 ---