---
Rocky Mountain Audio Fest 2013
---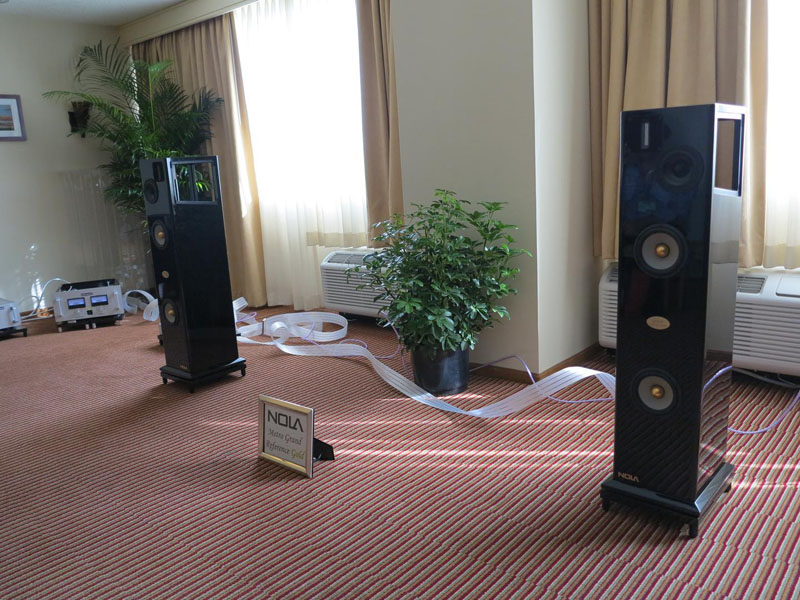 Launched earlier in the year, NOLA's Metro Grand Reference Gold is designed to bring the performance of the Concert Grand and Grand Reference Gold speakers into a loudspeaker size that is suitable for smaller rooms. That said, the $33,000 loudspeakers were making a great sound through NOLA's usual system choice of Audio Research electronics and Nordost Odin cables.
---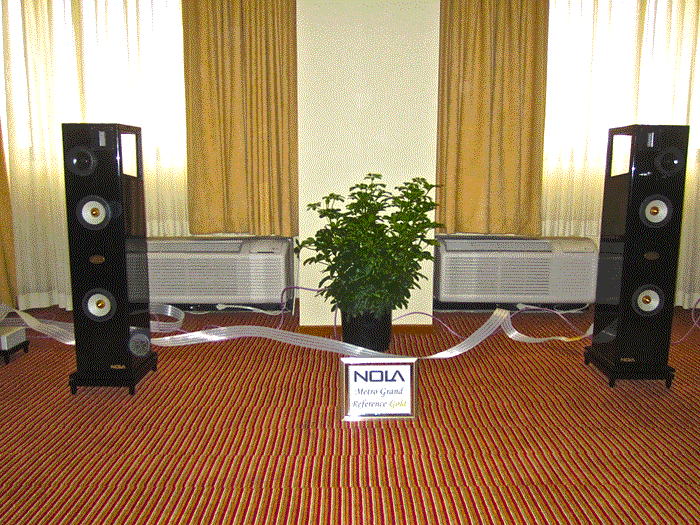 Nola almost always has one of the best sound at any show if you like immaculate soundstaging and very musical detail. This is simply a smaller version of his $55,000 Baby Grand Reference we reviewed a couple of years ago. At $33,000/pr they sound much more expensive, and did we say extremely "musical"? I'd take these over any megabuck Wilson, Magico or MBL any day.

There was no sense of the usual "music coming from speakers", they completely disappear leaving just a musical perofrmance, that magic exlixer we all serch for. It was hard to leave this room. We just wanted to stay and stay.
---


Rocky Mountain Audio Fest 2013: Speakers $20,000 and Above
By Jonathan Valin | Oct 15th, 2013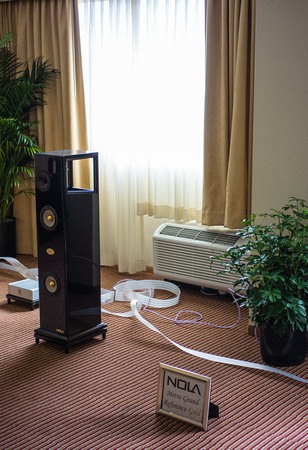 From peak to peak, Carl Marchisotto's $33k Nola Metro Grand Reference Gold multi-driver, short line-source, ribbon/cone quasi-dipole floorstanders were being driven by ARC. To touch on a point I raised earlier, here the ARC Reference 10 gear sounded fully broken in -- and fabulous. Certainly this was the best room in which Audio Research was being used. The speakers themselves were dark and beautiful in timbre, with well defined bass on "Autumn Leaves" and lovely reproduction of vocals and piano, and spectacular staging, resolution, and dynamics on the Mercury Romeo & Juliet. There may have been a smidge of room resonance here, too, but not enough to matter. It's obvious that the Metro Grand Reference Gold is another great-sounding speaker from a guy who doesn't make anything else. Certainly yet another Best Of Show nominee.
---

RMAF 2013 Show Report
Nola, ARC, and Nordost
By Jason Victor Serinus | Posted: Oct 17, 2013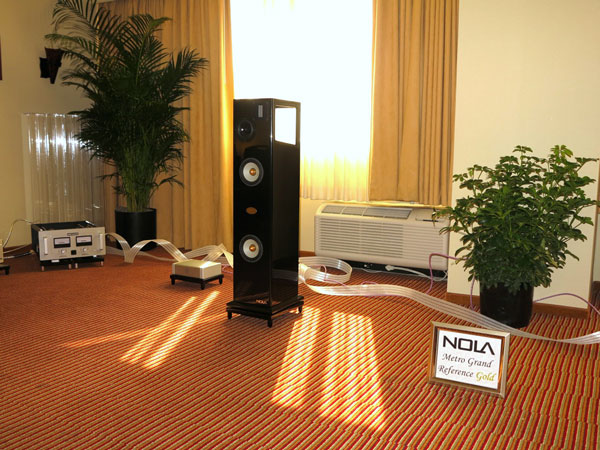 Iíve grown quite fond of Nola Metro Grand Reference Gold loudspeakers ($33,000/pair). Mated once again with ultra-transparent, full-range Nordost Odin cabling and several Nordost Quantums ($2200/each), the system brought out the true nature of Audio Researchís CD-8 CD player ($9000), Reference 75 amplifier ($9000), and Reference 10 preamplifier ($30,000). On a recent Mercury Living Presence CD reissue of music by Chabrier, that made for an easy-on-the-ears, slightly damped top and the dominant ARC midrange that so many people love. JA tells me that he also was impressed by the sound in this room, and has asked for a pair of the Metro Grands for review in the New Year.
---

The NOLA room highlighted its gorgeous Metro Grand Reference Gold Loudspeakers. These were very special and played all repertoire exquisitely. This is by far the best Nola speaker Iíve heard.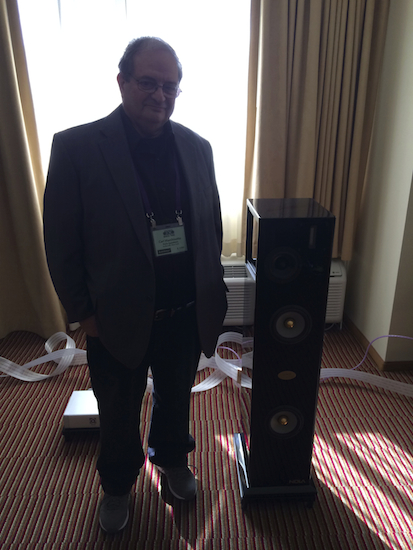 Carl Marchisotto and his stunning NOLA Metro Grand Reference Gold Loudspeakers ($33K).
---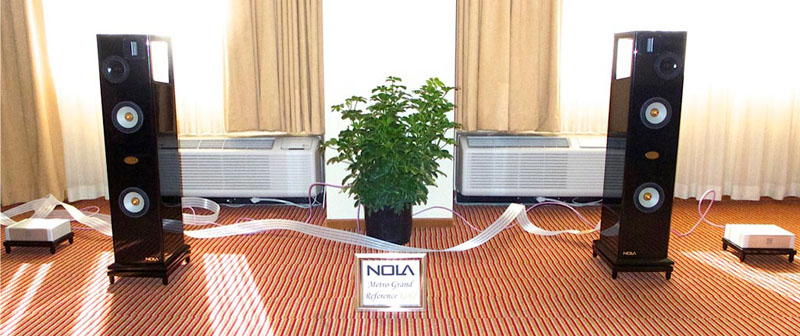 The Nola Metro Grand References, driven by Audio Research Electronics were sounding very, very good. They are also strikingly easy on the eyes.
---

RMAF Impressions
padreken, posted 10/13/2013.

The NOLA grand reference speakers sounded awesome-Carl M. was nice enough to take a break from jazz and classical and crank up Transatlantic's awesome cover of Santana's Soul Sacrifice (with killer drumming from Mike Portnoy) for me, got a nice cup of coffee and a pretty cool NOLA ceramic coffee mug to take home. I'd really like to hear the NOLA Contender, which would be affordable for me-spoke with James Darby from Stereomojo who reviewed them and strongly encouraged me to check them out.
---

RMAF 2013: Gear worth making the trip to Denver to hear... And not!
caesar, posted 10/12/2013.

Speaking of natural sound, the Nola Metro Grand Reference Gold speakers went straight to the heart. Carl may not use the latest gimmick in his design, but Nola Metro Gold Reference the speaker makes music and goes straight to your heart. The only thing this system lacked was big explosive bass, but that is not what Carl intended with this design. The new nola speaker driven by arc ref 75 is just superb.
---

Rocky Mountain Audio Fest 2013 · Hot Product
caesar, posted 10/12/2013.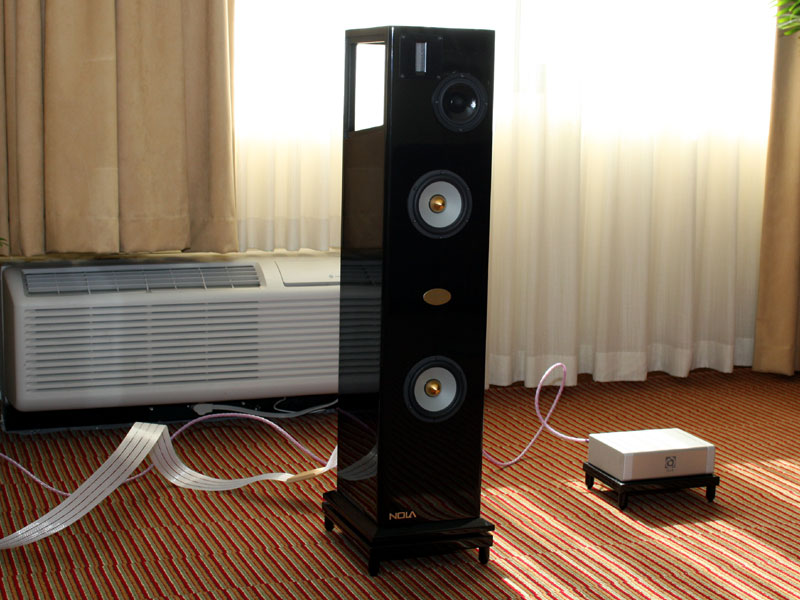 A show rarely goes by for which Nola doesn't have a speaker to debut. This time it's the Metro Grand Reference Gold ($33,000/pair), whose enhancements over the model it replaces include woofers that use alnico magnets for better linearity, gold-plated phase plugs for woofers (which Carl Marchisotto of Nola found removed a slight though noticeable coloration in the lower midrange), Mundorf polypropylene/oil capacitors in the crossover, and Nordost silver wire to connect eveything. The sound was effortless and very supple driven by Audio Research Reference electronics.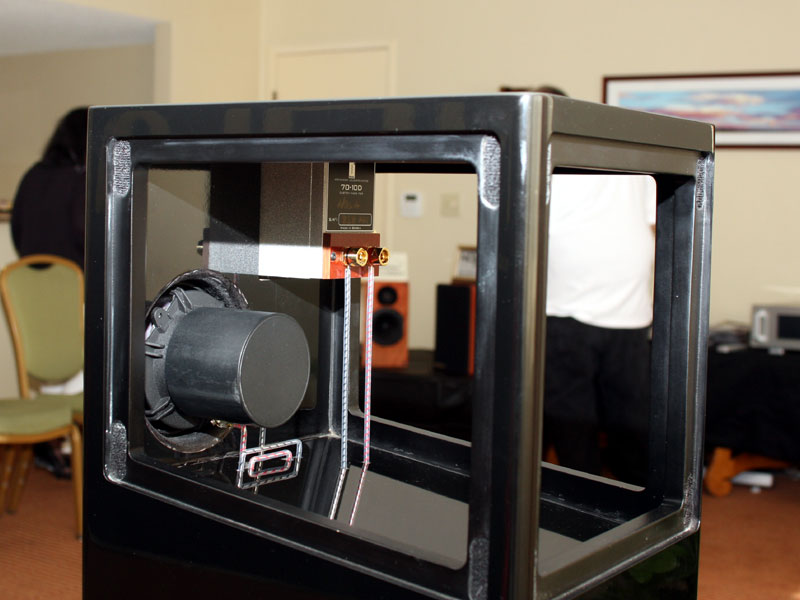 Like other Nola speakers, the Metro Grand Reference Gold features a cabinetless design for the ribbon tweeter and midrange driver.
---

RMAF 2013: Nola and Audio Research
Posted on November 6, 2013 by Kirsten Brodbeck-Kenney
Nola's Metro Grand Reference Gold loudspeakers ($33,000) were sounding possibly the best I've yet heard from a Nola system, backed by a full complement of Audio Research gear: the Reference 75 amplifier ($9,000), Reference 10 preamp ($30,000), and CD-8 CD player ($9,000). Cabling was all Nordost, their new Valhalla 2 line.
This system did great things with piano: each strike of the key was weighty and percussive, and the notes had delicious liquidity.