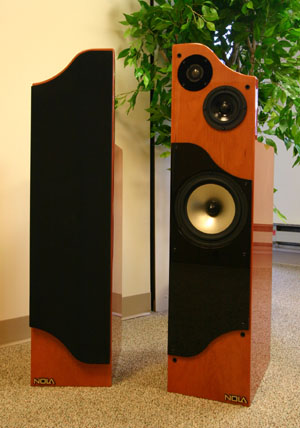 The Nola Viper I has been upgraded to the Viper IA. The Viper IA now uses a "trickle down" version of the mid bass drivers used in the Grand Reference. These cast frame aluminum cone drivers, which are also used in the Viper IIA, allow piston behavior up to 5 kHz. In the Viper IA they are used only up to 500 Hz, ensuring very low coloration. The new midrange driver created for the Viper IA utilizes the same tri-laminate cone and cast frame as used in the Viper IIA but without the Alnico magnet. Upgraded crossover components provide improved performance.
Additional upgrades include a solid, high gloss, black acrylic sub baffle for improved front baffle damping and lower coloration. All drivers are mounted with machine screws and threaded inserts pressed into the baffle. The mid/high frequency wiring harness is now hidden and runs inside the front baffle. The net result of these upgrades is to provide significantly improved performance in addition to fit and finish.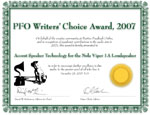 Removable front and rear grilles allow the Viper IA the most open sound possible - completely free of obstructions for the mid range and tweeter.
Click here for connection and setup instructions.

Specifications

Response: 38 Hz to 25000 Hz
Low Frequency: Single sealed 220 mm, cast frame, aluminum cone
Mid Frequency: 110 mm, tri-laminate, cast frame, open baffle
High Frequency: 1" aluminum alloy dipole dome, open baffle

Crossover: Two board bi-wire, internal
Impedance: 8 ohm nominal / 6 ohm minimum
Power: 10 watts or more
Dimensions: 40"H x 10"W x 15"D, 70 lbs.
Finish: Piano Cherry (standard)


Specifications subject to change without notice.

Link to this page