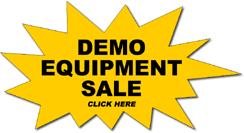 Recent News: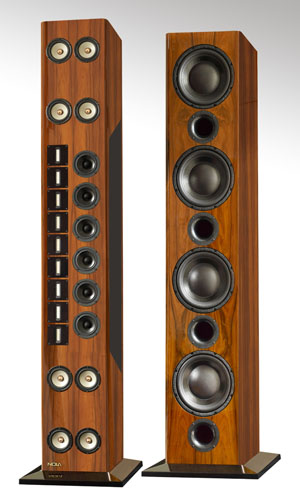 January 2023 - Part Time Audiophile named the Champ S3 as a Reviewers Choice Award winner in its 2023 Best Speakers Buyers Guide.
November 2022 - The Absolute Sound reviewed the new Baby Grand Reference Gold Series 3 at Capital Audiofest 2022.
November 2022 - Part Time Audiophile reviewed the new Baby Grand Reference Gold Series 3 at Capital Audiofest 2022.
November 11-13, 2022 - NOLA at Capital Audiofest 2022: NOLA will introduce the new Baby Grand Reference Gold Series 3 loudspeakers at the Capitol Audiofest (Twin Brook Hilton Hotel, Rockville, MD) in the Regency room. The new model features the following upgrades:
8 super Alnico midranges with gold plated copper phase plugs operating in open baffle dipole mode to provide "real life" musical attack
8 pure ribbon open baffle tweeters for "real life" attack
4 220 mm Gold Alnico woofers in separate vented enclosures
25% increase in bass enclosure volume provides increased bass extension
Increased sensitivity to 91 dB @ 8 ohms
Series 3 crossover components and connectivity upgrades provide increased transparency
Debuting in the Regency Room with Dr Vinyl Demonstrating State of the Art Vinyl and Valve Amplification Company Electronics.

April 2022 - Champ 3 reviewed and given a Reviewers Choice Award by Part Time Audiophile.

November 2021 - Champ 3 reviewed at Capital Audiofest 2021.

November 2021 - "VAC was pleased to have our Sigma 170i Integrated Amplifier driving the debut of the the NOLA Champ 3 loudspeakers at Capital Audio Fest 2021. The system sounded outstanding, very present and large, and with astoundingly good bass. The realism and emotional connection with the Louis Armstrong recording of St. James Infirmary (on CD) is impossible to overstate. Well done, Carl!"

November 5-7, 2021 - NOLA WILL INTRODUCE TWO NEW MODELS AT THE CAPITAL AUDIOFEST SHOW NOV. 5 THRU NOV.7.

The first model is a brand new addition to our line. It is called the CHAMP 3. It is in answer to increasing requests for a more affordable floor standing open baffle model — sort of the Alon I for today. It utilizes 5 drivers in an open baffle array. Two bass drivers each one in a separate tuned chamber for bass extension combined with detail, using low mass (13g) drivers. Twin low mass side-by-side midrange drivers operating in dipole mode provide natural openness and space along with fast transients and superior low-level resolution. High frequencies are reproduced by our finest silk dome tweeter mounted on the same open baffle. High frequencies are reproduced with smoothness in addition to the open airy "alive" sound Nola is known for. Two board, hand-wired, point-to-point crossovers utilizing Mundorf Oil Caps in addition to Nordost mono-filament silver wire in critical locations.

Preliminary Specs:
5 driver, 3½ way open baffle deign
8 ohms / 90 dB for easy drive
Supplied with matching Base and floor spikes
42" H x 9½" W x 12" D
MSRP: $9500/pair in American Cherry Wood
Optional: Double ball bearing Isolation Platform, $3000/pr
In addition we will introduce the state of the art Metro Grand Gold Series 3 ($60,000/pair) in the same room using the same source for comparison. I do not believe this has ever been done before and hopefully will result in some interesting listening!
January 2021 - First Reaction to NOLA Studio Grand Reference Gold 2: Michael says, "After listening to the NOLA Studio 2 at Ian's (a dealer), I can confidently endorse the NOLA Studio 2 as the finest loudspeaker at its price point. It is not what it does but what it doesn't do in the way of high end loudspeaker failures. It simply plays music in a way such that you are easily convinced that you are at the live performance venue regardless of the recording – wow the sheer tangible bass, the satisfying midrange and treble is without a doubt the very best I have ever encountered. But they also bring the whole listening experience to a certain accurate orchestral coherence that reaches your inner feelings and prompts applause. That's complete satisfaction! Thank you Carl for producing a great loudspeaker." - Michael Akutter (NOLA UK distributor for some 30 yrs)
June 2021 - Dagogo interview: Interview with Carl Marchisotto of Nola speakers
July 2020 - Copper Magazine: Talking with Carl Marchisotto: Experiences of a lifetime in audio
February 2020 - Brio Quattro review by Audiophile Audition.
February 2020 - Marilyn Marchisotto was profiled this month by The Audio Beatnik.
October 2019 - Positive Feedback gave Nola their Audio Oasis Award: "This award is given to you due to the superior sound that I experienced in your space. Being in your room was a true Audio Oasis! moment -- relaxation, and getting into the music, instead of being driven out of the room!"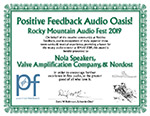 October 2019 - RMAF 2019 Show Wrapup
September 2019 - PFO raves about the new Boxer S3: "In all, the Nola Boxer S3 is another exceptional offering from a heavyweight speaker designer intent on providing high quality sound at a reasonable cost. At its best, the Boxer S3 can provide moments of truly mesmerizing musical performances. At its current price, the Boxer S3 does not offer the same universal affordability as the original model, but the sonic improvements in every area that matters makes it a fine choice for those who just want more." For the full review please go to Positive Feedback.
September 2019 - NOLA to feature the World Premiere of its Concert Grand Reference Gold 2 Loudspeaker at Rocky Mountain Audio Fest 2019 September 6-8, 2019 in room 4125.
February 2019 - Florida Audio Expo 2019 show wrapup: Listeners were so impressed they left shaking their heads at such a huge sound coming from the small Brios.
February 2019 - The NOLA BOXER 3 won a 2019 Editors Choice Award from The Absolute Sound magazine.
[ More news... ]