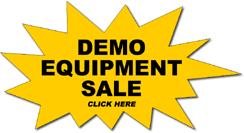 Recent News:
August 2021 - NEWS FLASH: NEW NOLA DEALER IN NEW YORK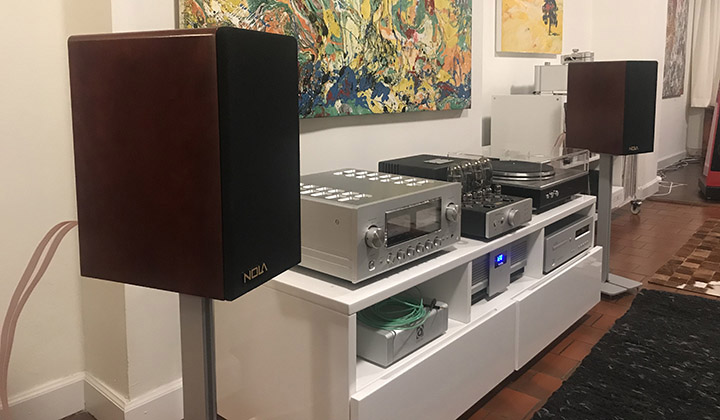 NOLA has a new dealer in New York City, servicing the 5 boroughs. HI FI LOFT by Adirondak Audio is located at 442 W 44th Street, NYC. Contact Mike Deutsch at 646-327-3158 to arrange a demo. Mike has long experience with NOLA loudspeakers. Demonstrations are done in home-style rooms so that the speakers sound as they would in your home — and are not displayed as in a typical store. HI FI LOFT is an appointment only dealer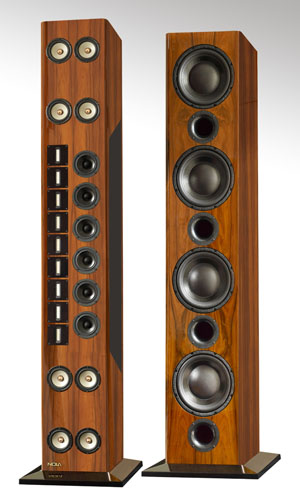 January 2021 - First Reaction to NOLA Studio Grand Reference Gold 2: Michael says, "After listening to the NOLA Studio 2 at Ian's (a dealer), I can confidently endorse the NOLA Studio 2 as the finest loudspeaker at its price point. It is not what it does but what it doesn't do in the way of high end loudspeaker failures. It simply plays music in a way such that you are easily convinced that you are at the live performance venue regardless of the recording – wow the sheer tangible bass, the satisfying midrange and treble is without a doubt the very best I have ever encountered. But they also bring the whole listening experience to a certain accurate orchestral coherence that reaches your inner feelings and prompts applause. That's complete satisfaction! Thank you Carl for producing a great loudspeaker." - Michael Akutter (NOLA UK distributor for some 30 yrs)
June 2021 - Dagogo interview: Interview with Carl Marchisotto of Nola speakers
July 2020 - Copper Magazine: Talking with Carl Marchisotto: Experiences of a lifetime in audio
February 2020 - Brio Quattro review by Audiophile Audition.
February 2020 - Marilyn Marchisotto was profiled this month by The Audio Beatnik.
October 2019 - Positive Feedback gave Nola their Audio Oasis Award: "This award is given to you due to the superior sound that I experienced in your space. Being in your room was a true Audio Oasis! moment -- relaxation, and getting into the music, instead of being driven out of the room!"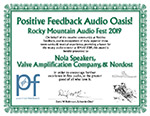 October 2019 - RMAF 2019 Show Wrapup
September 2019 - PFO raves about the new Boxer S3: "In all, the Nola Boxer S3 is another exceptional offering from a heavyweight speaker designer intent on providing high quality sound at a reasonable cost. At its best, the Boxer S3 can provide moments of truly mesmerizing musical performances. At its current price, the Boxer S3 does not offer the same universal affordability as the original model, but the sonic improvements in every area that matters makes it a fine choice for those who just want more." For the full review please go to Positive Feedback.
September 2019 - NOLA to feature the World Premiere of its Concert Grand Reference Gold 2 Loudspeaker at Rocky Mountain Audio Fest 2019 September 6-8, 2019 in room 4125.
February 2019 - Florida Audio Expo 2019 show wrapup: Listeners were so impressed they left shaking their heads at such a huge sound coming from the small Brios.
February 2019 - The NOLA BOXER 3 won a 2019 Editors Choice Award from The Absolute Sound magazine.
October 2018 - RMAF 2018 Show Wrapup: "The only room with the sound of 'live music'."
October 5-7, 2018 - NOLA will demonstrate the production version of the new Metro Grand Reference Gold 2 at RMAF 2018 Oct 5-7. Sure to be a memorable musical experience. See you there.
May 2018 - AXPONA 2018 Show Wrapup
March 2018 - NOLA is proud to introduce the new premium version Contender S3 at Axpona, April 13-15th. Hope to see you there.
November 2017 - Part Time Audiophile named the Boxer S2 as one of their RMAF Best in Show loudspeakers!
November 2017 - Part Time Audiophile reviewed the Nola Boxer S2 at RMAF 2017
November 2017 - RMAF 2017 show wrapup
October 6-8, 2017 - NOLA will attend the 2017 Rocky Mountain Audiofest from October 6-8. 2017. We will demonstrate the premium Boxer S 2 stand mounted loudspeakers for the first time. Hope to see you there.
September 2017 - French Audiophile-Magazine prints rave review of Metro Grand Reference Gold 2.
July 2017 - Part Time Audiophile reviewed the Nola Metro Grand Reference Gold 2s at the 2017 LA Audio Show
June 2017 - LAAS 2017 show wrapup
June 2017 - Nola will exhibit the new Metro Grand Reference Gold 2 loudspeaker at the LAAS 2017 show from June 2 to June 4. All are welcome!
February 2017 - Micro Grand Reference Gold wins stand-mounted speaker award from the very select AUDIO NIRVANA magazine. It was rated one of the best stand mounted speakers regardless of price by Joel Chevassus.
February 2017 - NOLA BOXER 2 wins 2017 Editors Choice Award from The Absolute Sound magazine.
December 2016 - TAVES 2016 Show Wrapup (Nola Brio Quad)
December 2016 - AV Showrooms bestows PRODUCT OF THE YEAR AWARD 2016 to the Brio Trio and Brio Quatro "Nola Brio Trio and Brio Quatro: I bought the Quatro's; the loudspeakers with the two subwoofers. These little six pound speakers fill the entire room with enormous sound and play every music genre with pinpoint imaging no matter where you sit or stand in the room. The open-baffle airiness makes my listening a very emotional experience and the tightness and integration of the bass astounds me. Everything is in its right place. Instruments are separated and vocals are as clear as a bell. What more can I say about these little gems except you need to listen for yourself!" Full video review
August 2016 - Metro Grand Reference Gold wins Best Sound Award at Capital Audiofest 2016. Show Wrapup
June 2016 - T.H.E. Show Newport Beach 2016 Show Wrapup
April 2016 - AXPONA 2016 Show Wrapup
February 2016 - The Absolute Sound magazine has bestowed a 2016 Editor's Choice Award on the Boxer 2. They wrote: "The Boxer is an unassuming, 2-way, bass-reflex compact with a sound that's unerringly musical - a canny balance of warmth and detail. Images are vivid, and transient reflexes quick. This is not a shy, recessed presentation, nor is the treble brittle or fatiguing, Excepr for the slightest presence-range dip, there's substance to every octave, with very little dynamic compression. -NG, 203"
February 2016 - CES 2016 Show Wrapup
January 2016 - The Brio Trio was awarded a Best Sound award at CES 2016 by AV Showrooms.
January 2016 - The Boxer 2 earns a "rave review" and a Best Buy Award from Mono and Stereo Magazine.
January 6-9, 2016 - NOLA will show the Metro Grand Reference Gold at the 2016 CES Show in Las Vegas. In addition we will display the new unique 3-piece open baffle BRIO TRIO system. We will be in our suite, Venetian 30-101 from Jan 6 to Jan 9. All are welcome. See you there.
October 2015 - Nola KO 2 wins "Most Significant Product Introduction" award at RMAF 2015. Read the show wrapup
October 2-4, 2015 - At the Rocky Mountain Audio Fest for 2015, NOLA will introduce the new KO 2. We can honestly say that KO 2 expands upon the original's virtues in every way and KO 2's performance may redefine what is possible at this price point. You are welcome to bring one of your standard CDs to check them out. See you there.
June 2015 - The French magazine Haute Fidelite has just published a rave review of the Metro Grand Reference Gold (Francais). NOLA is distributed in France by TECSART, Armando.Fontana@tecsart.com.
May 8-10, 2015 - We will exhibit at the upcoming Vancouver Audio Show in conjunction with our dealer Pat's Audio Art. We will feature the new NOLA Studio Grand Reference Gold loudspeaker. The show runs from May 8th to 10th at the Hilton Vancouver Metrotown hotel. All are welcome. Hope to see you there.
January 2015 - CES2015: NOLA Concert Grand Reference Gold wins Best Sound Award, 3 years in a row. CES 2015 Show Wrapup
January 2015 - NOLA debuts the amazing Studio Grand Reference Gold. This floor standing entry to the Nola Gold Collection has stunned listeners at both the 2014 Rocky Mountain Audiofest and the 2015 Consumer Electronics show. Ask your local dealer.
January 6-9, 2015 - At CES 2015, NOLA will present the Concert Grand Reference Gold. New upgrades have made the best even better. Visit us in Venetian Suite 30-101, January 6-9, 2015.
December 2014 - HiFi Stars reviewed the NOLA Boxer II. The reviewer concludes:
The smallest Nola Boxer has conquered my listening room with an impressive performance.

Everything seems balanced and shines in the most beautiful timbres, without being (designed) too much (or too less) somewhere in the spectrum. Such a matter of course, with the reproduction of complex musical passages, is usually found only in much higher priced speakers. And for compact speakers, their high efficiency allows even the use of less powerful amplifiers, regardless of transistor or tube.

My tip: Whoever has audiophile demands and wants to fill a small to medium sized room, should definitely listen to this loudspeaker. If I was looking for a speaker in this category, I would choose the Nola Boxer Mk II without hesitation as high priority in my shortlist. Is there a bigger compliment...?"
[ More news... ]